The Dodgers are on some kind of hot streak, winning seven straight games and solidifying their lead over the National League West by going 22 and 3 since the All-Star Break.
Actor Danny DeVito was spotted at Monday night's victory over the Mets, celebrating with thousands of True Blue fans as the Dodgers came back from a two-run deficit to win 4-2.
MLB cameras spotted DeVito dancing a celebratory jig when infielder Nick Punto knocked a home run in the seventh inning.
Punto spotted DeVito in the stands and, after rounding the bases, came over to high-five the diminutive actor.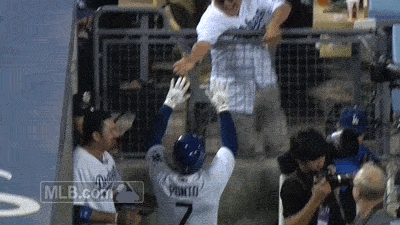 DeVito, who sported a #7 Punto jersey, joined his favorite player for an on-field interview after the game.