NEW YORK, Sept. 10 (UPI) -- NFL Commissioner Roger Goodell Wednesday would not rule out Ray Rice someday returning to play professional football.
Rice was cut by the Baltimore Ravens and suspended indefinitely from the NFL this week, after a video surfaced showing him punching his then-fiancee in an Atlantic City elevator in March.
In an interview with CBS's Nora O'Donnell, Goodell said the league would apparently consider reinstating the star running back.
"What does that mean that he was suspended indefinitely? Does that mean Ray Rice will never play in the NFL again?" O'Donnell asked.
"I don't rule that out," Goodell said. "But he would have to make sure that we are fully confident that he is addressing this issue. Clearly, he has paid a price for the actions that he's already taken."
Asked what Rice would have to do to be reinstated, Goodell said Rice "has a lot of work to do."
"I haven't thought about that because right now, I think the focus is he's got a lot of work to do, the family has a lot of work to do," he said. "We're going to obviously provide whatever resources we can to help them work through that."
The NFL has come under fire for its relatively mild response to incidences of assault among its players. Rice was initially indicted by a grand jury for third-degree assault, but the charges were dropped when Rice agreed to undergo counseling.
The Ravens suspended Rice for two games -- and made his fiancee, now wife, Janay apologize for her "role" in the ordeal. She has also stood by her husband and slammed the public outcry that forced the NFL's hand.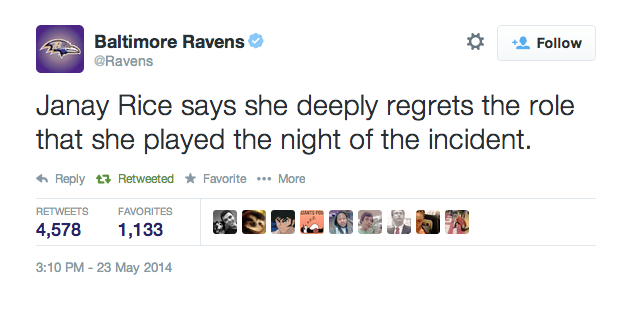 Even before the video surfaced this week, Goodell admitted to erring by only suspending Rice for two games.
He announced new punishment guidelines for players accused of domestic violence, with a minimum six-game suspension for the first offense, and a lifetime ban on the second.