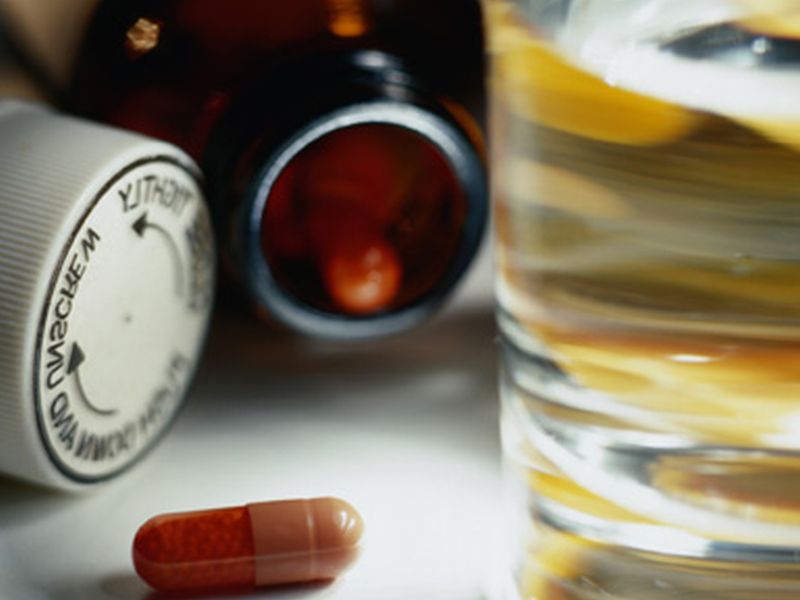 TUESDAY, April 17, 2018 -- Certain drugs prescribed to treat high blood pressure may boost a woman's risk for developing pancreatic cancer after menopause, new research suggests.
In a large study of postmenopausal women, those who had ever taken a short-acting calcium channel blocker (CCB) saw their pancreatic cancer risk shoot up by 66 percent.
And women who had used a short-acting CCB for three years or more faced more than double the risk for pancreatic cancer, compared with those who had taken other types of blood pressure drugs.
This class of drugs includes short-acting nifedipine (brand names Procardia, Adalat CC); nicardipine (Cardene IV); and diltiazem (Cardizem).
The short-acting CCBs were the only blood pressure drugs linked to higher pancreatic cancer risk, according to study lead author Zhensheng Wang.
However, people taking this class of drugs shouldn't panic, because their absolute risk of developing pancreatic cancer still remains very low. According to the U.S. National Cancer Institute, just 1.6 percent of Americans will develop the cancer during their lifetime. That means that -- even after accounting for a bump up in risk from taking a CCB -- an individual's odds for the disease remains minimal.
Still, the new finding was unexpected, said Wang, a postdoctoral associate at Baylor College of Medicine in Houston.
Prior investigations had hinted that CCBs might even protect against pancreatic cancer by boosting levels of a protein (sRAGE) known to keep inflammation in check, said Wang.
Reduced inflammation is typically associated with a lower risk for a range of cancers.
So what might explain the current results?
Wang noted that short-acting CCBs are "the least effective" blood pressure drug available. That could mean many of the women in the study had not achieved good blood pressure control to begin with, which could have boosted their risk for diabetes. And diabetes is a known risk factor for pancreatic cancer.
Wang also said blood samples taken from more than half the pancreatic cancer patients revealed that those who had ever taken a short-acting CCB also had notably lower levels of the sRAGE protein, compared with women who had taken other types of blood pressure drugs. That would mean less inflammation control and, therefore, potentially higher cancer risk.
Finally, he hypothesized that women who are prescribed short-acting CCBs might differ in some way from patients prescribed other types of blood pressure control.
CCBs tamp down blood pressure by preventing calcium from entering cells in the heart and blood vessel walls, thereby decreasing cardiac stress and workload.
In 1996, the U.S. Food and Drug Administration took steps to discourage doctors from prescribing short-acting nifedipine. It warned that some researchers had linked the drug to an increased risk for heart attack and stroke.
The current study followed more than 145,000 participants in the Women's Health Initiative study. They were between 50 and 79 years old at the start of the study, and medication use -- but not dosage -- was monitored between 1993 and 1998.
By 2014, more than 800 had developed pancreatic cancer, with risk up only among those who had been prescribed a short-acting CCB, Wang's team found.
For those who'd used the drugs three years or more, risk of pancreatic cancer was 107 percent higher than for those who took other blood pressure drugs.
Longer-acting CCB drugs were not associated with any risk elevation. Neither were beta blockers, diuretic drugs or ACE inhibitors.
Wang and his colleagues plan to present their findings this week at a meeting of the American Association for Cancer Research in Chicago.
He said the findings need to be reconfirmed. Also, research presented at meetings is usually considered preliminary until peer-reviewed for publication in a medical journal.
One cancer specialist agreed that more investigation is warranted.
"There is no doubt more research needs to be done on this," said Dr. Victoria Rutson, chief medical officer for the Pancreatic Cancer Action Network in Manhattan Beach, Calif.
But for now, Rutson advised patients to "consult with their doctors before removing or adding any medications."
"Removing hypertension medications can be extremely dangerous, especially if someone has a history of high blood pressure," she warned.
Rutson also said if pancreatic cancer runs in your family, you might want to consult a doctor.
"If you have a familial history of pancreatic cancer, it is important to visit with a gastroenterologist, especially if you begin to exhibit any symptoms that are new or out of the ordinary," Rutson added.
Pancreatic cancer is the fourth leading cause of cancer deaths in the United States. Wang said it typically strikes older adults with chronic medical conditions, such as high blood pressure.
More information
There's more on blood pressure medication at the American Heart Association.
Copyright © 2018 HealthDay. All rights reserved.