Famed photographer Annie Leibovitz, crew in tow, were spotted at the White House Thursday, prompting speculation that the first lady would be making her second appearance on the cover of Vogue magazine.
According to Washingtonian Magazine, photos of fashionista-in-chief Michelle Obama would likely appear in the March issue. White House reporters saw Leibovitz and company heading toward the Residence, where the shoot is expected to take place.
There's even some speculation that the spread could include a surprise visit from the president: Obama's schedule for Thursday had no public events, nor had he been spotted around the West Wing.
The Obamas are reportedly close with Vogue editor Anna Wintour, who was born in Britain but is now a U.S. citizen, and was one of the 2012 campaign's highest profile fundraisers for the president's reelection effort.
CBS News reporter Mark Knoller tweeted that a Vogue crew was spotted on the White House grounds Thursday, and that a rep from the magazine was on the press plane during the president's travels to Las Vegas earlier this week.
Today at the WH. No public events on the president's schedule today, though Vogue is bringing camera gear into the WH this morning.

— Mark Knoller (@markknoller) January 31, 2013
As for the magazine itself, they kept mum: director of communications Megan Salt would say only that "we never comment on rumors about future editorial."
The first lady previously appeared on the magazine's cover--also photographed by Leibovitz--in March 2009, shortly after Obama took office. She was, notably, wearing a Jason Wu dress, then just weeks after kickstarting the young designer's career with her choice to wear his gown at that year's inaugural ball.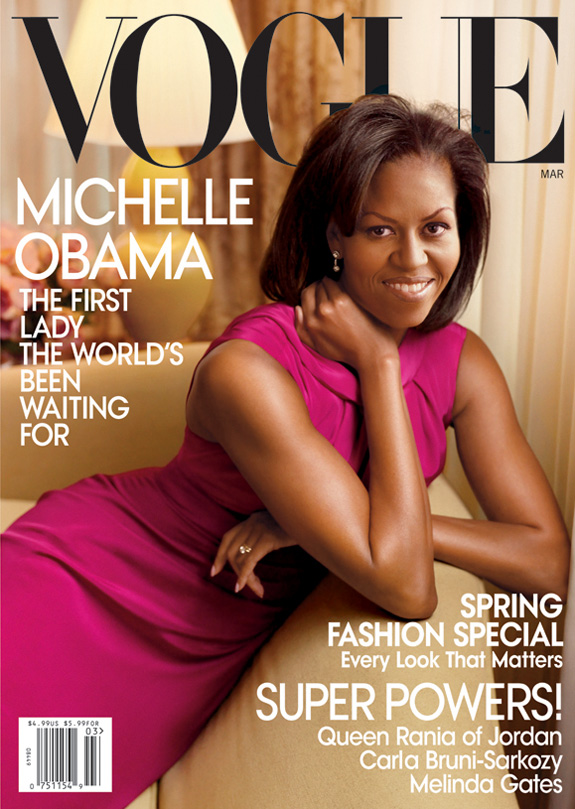 Naturally, the Internet would have its say on the subject.
I'm sure the Vogue photo shoot is for their upcoming cover piece, "How Obama Restored the Economy to Roaring Growth"

— jimgeraghty (@jimgeraghty) January 31, 2013
Today's Obama photo shoot: Vogue. Today's Obama economic plan: Vague.

— John Hayward (@Doc_0) January 31, 2013
Give Obama this..He's talented enough to torpedo Immigration reform all while getting his picture taken by Vogue

— S.M (@redsteeze) January 31, 2013
Yesterday, we learned the economy shifted into reverse. Today, the only "work" Obama is doing is posing for a Vogue photo shoot.

— Bill Hobbs (@billhobbs) January 31, 2013
Michelle Obama's having way more fun than Hagel right now. washingtonian.com/blogs/capitalc… Vogue photo shoot at the White House.

— Shane Harris (@shanewharris) January 31, 2013