WASHINGTON, Oct. 25 (UPI) -- With early voting underway this week in the Sunshine State, both Hillary Clinton and Donald Trump are returning to a presidential election mantra coined in 2000 that has proven true many times before: It all comes down to Florida, Florida, Florida.
It is the nation's largest battleground state with 29 electoral votes and there are virtually no paths for Trump to get to the 270 needed to win without them. While there are other states he must also win, any electoral map that ends with President Trump starts with Florida colored red.
As for Clinton, her lead in other key states means she can win the presidency without Florida, but the most direct route to the White House runs up the state's I-95 corridor, home to hundreds of thousands of persuadable swing voters of all demographics.
Polls consistently show Clinton leading there, though by a narrow margin. The UPI/CVoter tracking poll's 50-plus-one state analysis shows her leading Florida by 2.4 percentage points. Other surveys have shown her with a lead of as much as 4 points. The Real Clear Politics average in the state puts the lead at 3.8 points.
Trump has predicted the polls will be wrong and that he is actually leading the state, telling supporters in Naples, Fla., "the numbers are looking phenomenal in Florida."
In terms of votes cast, data suggest he is right -- at least for now.
More Republicans than Democrats have cast absentee ballots, as has been the case in past elections. As of last week, about 42 percent of the absentee mail-in ballots came from Republicans, compared to 40 percent from Democrats. The remainder came from minor party or independent voters.
The lead is both good and bad news for Trump's campaign. While certainly better than trailing Clinton in absentee ballots, as was the case briefly two weeks ago, Trump's absentee advantage is smaller than the one Mitt Romney enjoyed at the same point in the campaign four years ago.
Romney narrowly lost Florida to President Barack Obama.
While Trump has denied the polls are correct, his campaign schedule suggests his handlers are aware how crucial the state is and what a loss there would mean for his hopes nationally.
And his campaign schedule reflects it.
The GOP nominee is concluding a four-day, seven-city swing through the state Tuesday, a monumental focus on just one of the dozen battleground states that will ultimately decide the election.
The electoral math doesn't lie -- and it shows just how much Trump's hopes rest on the Sunshine State. A Clinton victory there means she can afford to lose nine other battleground states -- New Hampshire, North Carolina, Georgia, Ohio, Virginia, Iowa, Wisconsin, Nevada and Arizona -- and still register an electoral college victory, 274-264.
Conversely, Trump losing Florida would mean he needs all nine of those states and still must flip one more Clinton state -- most likely Colorado, Pennsylvania or Michigan, where polls show she is a comfortable favorite to win.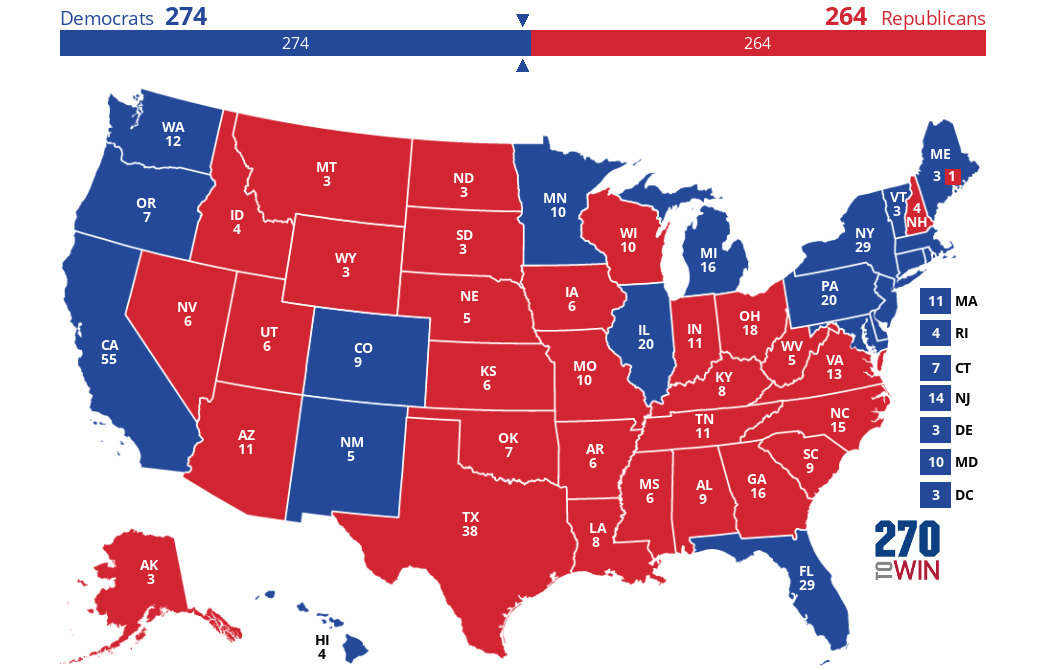 Click the map to create your own at
270toWin.com
While she isn't blanketing the state with a four-day tour like Trump, Clinton campaigned there Tuesday, with a stop scheduled in Coconut Creek, near Boca Raton, and has two stops scheduled for Wednesday. Other top surrogates including President Barack Obama, former President Bill Clinton and the Latina pop singer Jennifer Lopez have stumped in Florida or are scheduled for events there aimed at driving up early voting, which began Monday.
Though absentee voting by mail typically favors Republicans, early voting in person is a traditional Democratic advantage. In predominantly black churches across early voting states the South, a huge number of congregants participate in "souls to the polls" events, where churchgoers are bused from the service directly to a polling place to vote.
The first of two early voting Sundays happens later this week, when election watchers will gain a better idea of how strong that turnout effort may be. The UPI/CVoter polling analysis for minorities shows Clinton could be on track to nearly duplicate the near-unanimous support of black voters enjoyed by Obama in 2008 and 2012.
Clinton's campaign is less concerned with what percentage of the pie she will win (the UPI/CVoter analysis shows her topping 90 percent with Trump in single digits among black voters), but how large the pie actually is.
The question for Clinton in Florida -- and across the country -- will be whether she can maintain the historic black voter turnout Obama enjoyed, which helped twice propel him to two narrow Florida victories in 2008 and 2012.
Turnout can be driven up when voters are excited about their candidate, as blacks were to elect Obama -- and the Trump campaign is banking his supporters being more enthusiastic than Clinton's. Trump's Florida state director Susie Wiles pointed to the huge crowds Trump has drawn during his Florida swing, compared to the relatively small gatherings that have defined Clinton's stump stops.
If Trump is to defy the pollsters in the campaign's closing two weeks, he will have that fact to thank.
"Enthusiasm counts," Wiles told Politico. "We have it. She doesn't."