WASHINGTON, Oct. 11 (UPI) -- Democratic voters in Florida and North Carolina are requesting mail-in ballots at a significantly higher rate than they were at this point in the 2012 campaign, a promising sign for Hillary Clinton in what could be two of the closest swing states in the country.
In 2012, President Barack Obama narrowly won Florida and narrowly lost North Carolina to Mitt Romney. In both instances, early voting played a key role in the final outcome. A record number of voters could cast a ballot before Nov. 8. The Clinton campaign has said as many as 4 in 10 swing state voters could cast a ballot before Election Day.
In all, 13 states are voting already. They are (in order of the earliest): Minnesota, New Jersey, South Dakota, Vermont, Maine, Illinois, Iowa, Wyoming, Ohio, Montana, Nebraska, California and Indiana. Thirteen more states will begin early voting over the next two weeks, including North Carolina (on Oct. 20) and Florida (on Oct. 24).
Democrats typically hold a significant edge in early voting because minority and younger voters are more likely to cast a ballot early due to varying work schedules, reliance on public transportation or being away at college.
While early voting has not begun in either state, requests for mail-in ballots are being fielded and The New York Times reports increases in the number of Democratic voters seeking mail-in ballots. The phenomenon is particularly noticeable in heavily Hispanic portions of South Florida, where mail ballot requests are up 50 percent among registered Democrats from four years ago.
In North Carolina, Romney eked out a victory in part by encouraging people to vote by mail, and cut into the overall Democratic advantage in early voting. Michael McDonald, a political science professor at the University of Florida who studies early voting, said it is likely that Trump holds a slight lead in mail-in ballots in 2016, but not by the same margin Romney had four years ago, meaning the tidal wave of Democratic early votes could give Clinton an insurmountable lead come Election Day, when more Republicans than Democrats are expected to show up at the polls.
If Donald Trump loses either Florida or North Carolina, his path to 270 electoral votes becomes incredibly narrow, essentially requiring him to run the table in other swing states.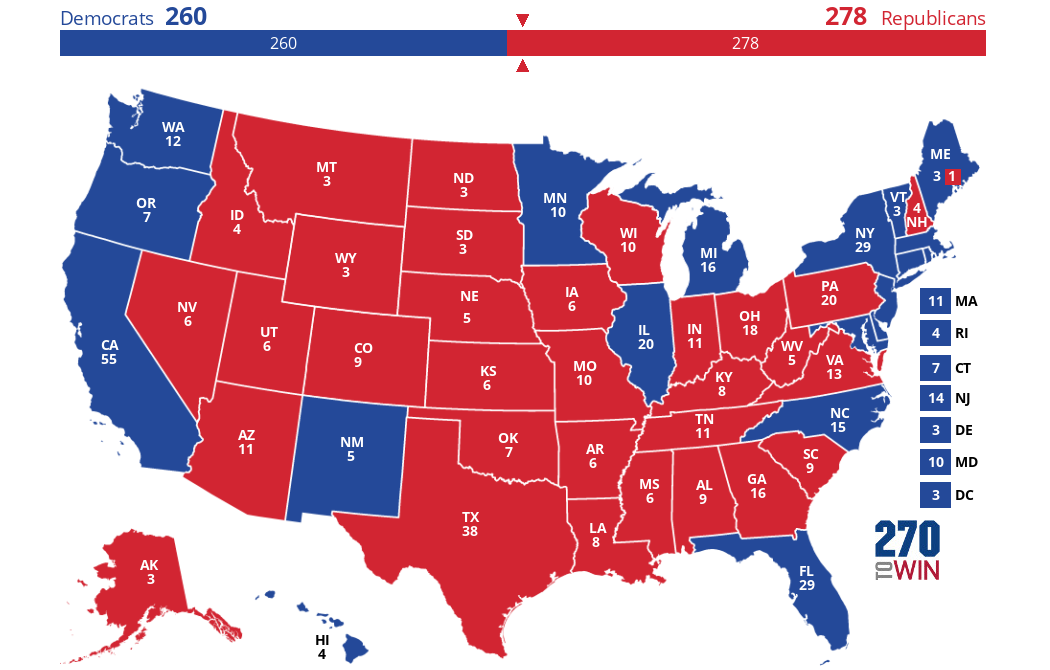 Click the map to create your own at
270toWin.com