WASHINGTON, July 23 (UPI) -- A fellow at the Environmental Protection Agency caused a stir with an accidental tweet name-checking reality star Kim Kardashian Monday.
The apparently auto-generated tweet, sent out on the @EPAWater account, read "I'm now a C-List celebrity in Kim Kardashian: Hollywood. Come join me and become famous too by playing on iPhone! http://t.co/SrloiiwUFZ." It was deleted after several hours, but not before winning a wonderful response from House dean, Rep. John Dingell, D-Mich.
"I'm the last original author of the Clean Water Act, but I have no idea who/what a Kardashian is and I rarely play games," he tweeted. "You OK, @EPAWater?"
After the tweet was deleted, the EPA Office of Water sent out another, apologizing for the tweet, but recognizing the bump in publicity that came with it.
"Whoops...our bad. Sorry about the tweet," it said. "Upside - more attention for the Office of Water (water.epa.gov), thanks @KimKardashian."
A spokesman later explained: "An EPA fellow inadvertently triggered an auto-generated tweet. She regrets the error and has been advised on the sensitivities of using social media."
But Dingell, 88, who is retiring at the end of the year and whose Twitter account often includes a mix of politics and excellent sports references got in one more charmingly befuddled shot.
"Staff has now informed me of what a Kardashian is," he wrote. "I'm only left with more questions."
Kim Kardashian: Hollywood is a free mobile game released on June 25 that, with in-app purchases, could earn $200 million in revenue this year, according to Bloomberg estimates.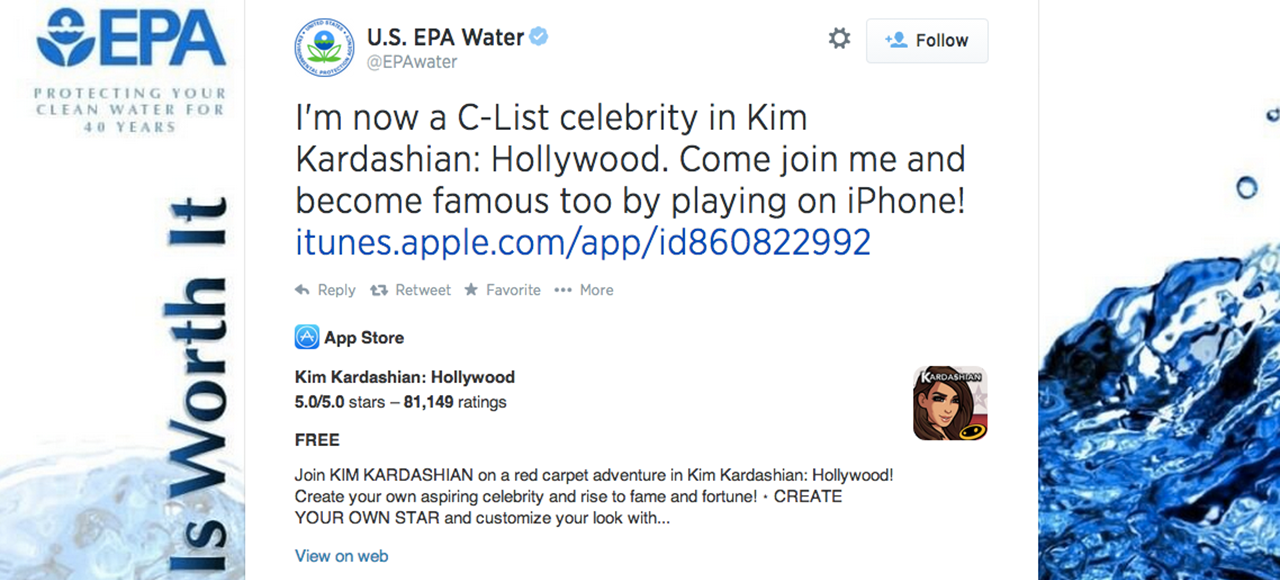 I'm the last original author of the Clean Water Act, but I have no idea who/what a Kardashian is and I rarely play games. You OK, @EPAwater?

— John Dingell (@john_dingell) July 22, 2014
Whoops...our bad. Sorry about tweet. Upside - more attention for the Office of Water (http://t.co/GhuYcpwqwx), thanks @KimKardashian

— U.S. EPA Water (@EPAwater) July 22, 2014
Staff has now informed me of what a Kardashian is.

I'm only left with more questions.

— John Dingell (@john_dingell) July 22, 2014