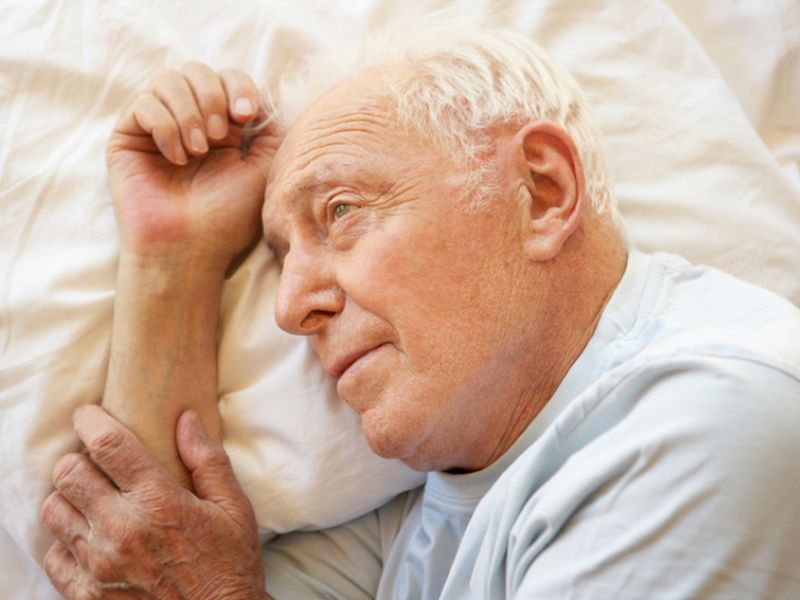 WEDNESDAY, April 5, 2017 -- Most people see their sleep habits shift as they age, but a new review suggests that some seniors lose the ability to get deep, restorative rest.
And that can come with health consequences, said review author Bryce Mander, a sleep researcher at the University of California, Berkeley.
Sleep "fragmentation" has been linked to a number of medical conditions, including depression and dementia, Mander said. People with fragmented sleep wake up multiple times during the night, and miss out on the deep stages of sleep.
It is true that medical conditions, or the treatments for them, can cause sleep problems, according to Mander.
But poor sleep can also contribute to disease, he added.
Take dementia, for example. Research suggests there is a "bi-directional" link between sleep disruptions and the dementia process, said Joe Winer, another Berkeley researcher who worked on the review.
That is, dementia often causes sleep problems; poor sleep, in turn, may speed declines in memory and other mental skills. According to Winer, animal research suggests that deep sleep helps "clear" the brain of the amyloid-beta proteins that build up in people with dementia.
So there may be a "vicious cycle," Winer said, where dementia and poor sleep feed each other.
Similar vicious cycles may be at work with other diseases, too, Mander said. He also stressed, though, that some shifts in sleep habits may be perfectly normal.
Older people are famously prone to being "early to bed, early to rise." They may also sleep a little less than they used to in their younger days. And that may be fine, the researchers said.
"We don't want to create a panic that if you're sleeping a little less than you used to, you're going to develop dementia," Mander said.
But, he added, it is important to recognize sleep as one of the lifestyle factors critical to good health -- right along with exercise and a healthy diet.
In fact, Mander noted, one reason that regular exercise keeps us healthy is that it can support better-quality sleep.
"Why do some people age more 'successfully' than others?" he said. "We think sleep is one of the factors."
Dr. Sanjeev Kothare, a sleep specialist who was not involved in the study, said poor sleep "clearly" has health consequences.
Sleep apnea is a good example, said Kothare, of the NYU Langone Comprehensive Epilepsy-Sleep Center, in New York City.
Obstructive sleep apnea causes repeated stops and starts in breathing during the night, and it's linked to major diseases, such as heart disease and diabetes. Research also suggests it can hasten declines in memory and thinking.
Dr. Phyllis Zee is chief of sleep medicine at Northwestern University in Chicago. She said sleep quality is more important than "duration."
So if older people are sleeping a little less than they used to -- or wake up once at night then quickly fall back asleep -- that's probably not a red flag, according to Zee.
But, she said, older adults should talk to their doctor if they routinely sleep less than six hours a night, or lack long "consolidated" blocks of sleep.
In some cases, Zee said, sleep apnea may be to blame.
In other cases, people may need lifestyle adjustments that can improve their sleep. The good news, Zee said, is that "behavioral and environmental changes are powerful."
Older people can improve their sleep by fitting physical and social activity into their daily routine, Zee said. At night, she suggested they make sure the bedroom temperature is comfortable and limit exposure to artificial light -- especially the blue glow of computer and TV screens.
Zee also stressed the importance of getting enough daylight, in the morning and afternoon: That helps keep the body's circadian rhythms (the sleep-wake cycle) on track.
But people should not wait until old age to care about sleep. According to Mander's team, people often start losing the capacity for deep sleep in middle age, and that decline continues over the years.
What's not clear yet, Mander said, is whether good sleep habits earlier in life help protect people from sleep problems in old age.
The review, which analyzed medical literature on the topic of sleep and aging, was published online April 5 in the journal Neuron.
More information
The U.S. Centers for Disease Control and Prevention has more on sleep and health.
Copyright © 2017 HealthDay. All rights reserved.