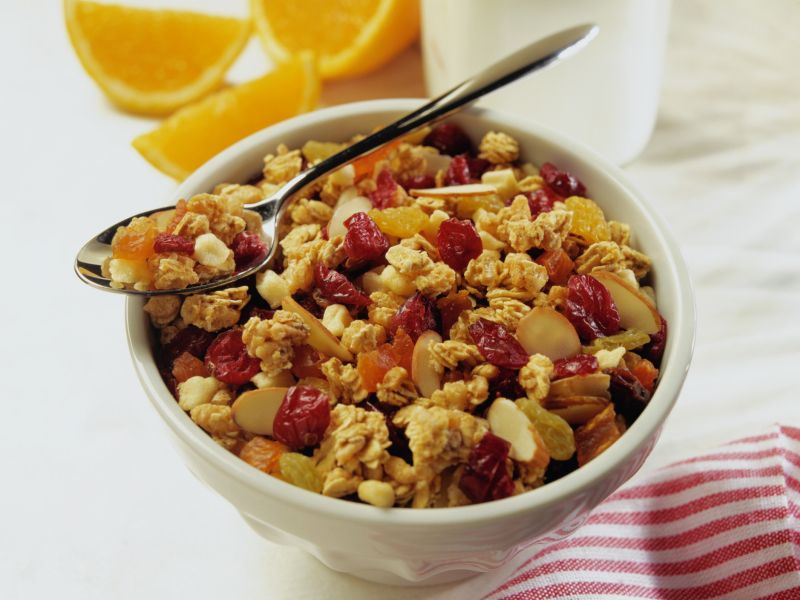 FRIDAY, Aug. 31, 2018 -- Could the timing of your breakfast and dinner help you eat less and lose body fat?
A small, preliminary study suggests it's possible.
People cut their daily calorie intake by about 25 percent when they held off on breakfast for 90 minutes and then had dinner 90 minutes earlier than usual, said senior researcher Jonathan Johnston. He is a reader in chronobiology and integrative physiology with the University of Surrey in England.
These people also lost more than twice as much body fat, on average, than a control group with unrestricted eating times, Johnston added.
"Meal timing is important, in addition to meal content," Johnston said. "Meal timing research is still quite new, but has a lot of promise to help people improve health with relatively minor changes to behavior."
There's strong evidence in animals that restricting the number of hours of food availability each day can help boost metabolism, Johnston said.
But the researchers weren't sure whether humans would see the same benefit, since so many factors go into when people eat meals and snacks, Johnston added.
To find out, nine people were recruited to take part in a "time-restricted feeding" pilot study, in which they delayed breakfast and moved up dinner by an hour and a half. During that window, they could eat as often as they liked.
"We deliberately designed our study to have a fairly minor reduction in daily eating duration," Johnston said.
Another seven people served as a control group by eating meals as they normally would.
Participants provided blood samples and completed diet diaries before and during the study period.
After 10 weeks, the people with a shorter meal window had reduced their body fat by about 2 percent, compared with under 1 percent lost by those in the control group, the researchers said.
Participants also cut their average energy intake from roughly 2,091 to 1,553 calories per day, the findings showed.
People said they tended to eat less because they had reduced appetite, decreased opportunities to eat, or a cutback in their snacking habits, according to a questionnaire they filled out afterward.
There are a couple of possible reasons why changing meal times might alter a person's calorie intake and help them lose body fat, Johnston said.
Restricted feeding could lead you to eat food at times best suited for your body's daily metabolic rhythms, he suggested. It also could be that a shorter meal window increases the length of the daily fasting period.
"In reality, my guess would be a combination of both these options," Johnston said.
However, these changes to meal timing may not be sustainable for many.
About 57 percent of participants told researchers they could not have maintained the new meal times long-term, because they were incompatible with family and social life.
But 43 percent said they would consider continuing a time-restricted diet if eating times were more flexible.
"This is really important as it emphasizes how important it is for dietary changes to fit with people's lives in the real world," Johnston said. "An important question for future research is to evaluate whether a shortened daily duration of feeding will be effective if started at different times of day."
The meal schedule in this study is a form of intermittent fasting, said Grace Fjeldberg, a registered dietitian nutritionist with the Mayo Clinic Health System. This "has become an increasingly popular trend to support weight loss," she said.
"Everyone is looking for quick ways to support weight loss and improve overall health, and eating fewer times throughout the day often produces a deficit in calories and ultimately weight loss," Fjeldberg explained.
But Fjeldberg warned that quick weight loss through fasting might not necessarily lead to better health and long-term reduced weight.
"Hunger and stress hormones can spike with prolonged periods of fasting, and for some this may mean increased portions in the few meals that are eaten throughout the day and potentially higher calories," Fjeldberg said.
Eating behavior expert Susan Carnell agreed with Fjeldberg that further research is needed.
"Time-restricted feeding may have benefits, but could be hard to stick to, so larger trials testing effectiveness as well as feasibility of different schedules are needed," said Carnell, who is an assistant professor of psychiatry and behavioral sciences with Johns Hopkins Medicine.
"Another point to consider might be that probably some schedules will work better for some people than others, so individual tailoring will probably be important for feasibility," she added.
The study was published Aug. 29 in the Journal of Nutritional Science.
More information
The Harvard T.H. Chan School of Public Health has more about intermittent fasting.
Copyright © 2018 HealthDay. All rights reserved.