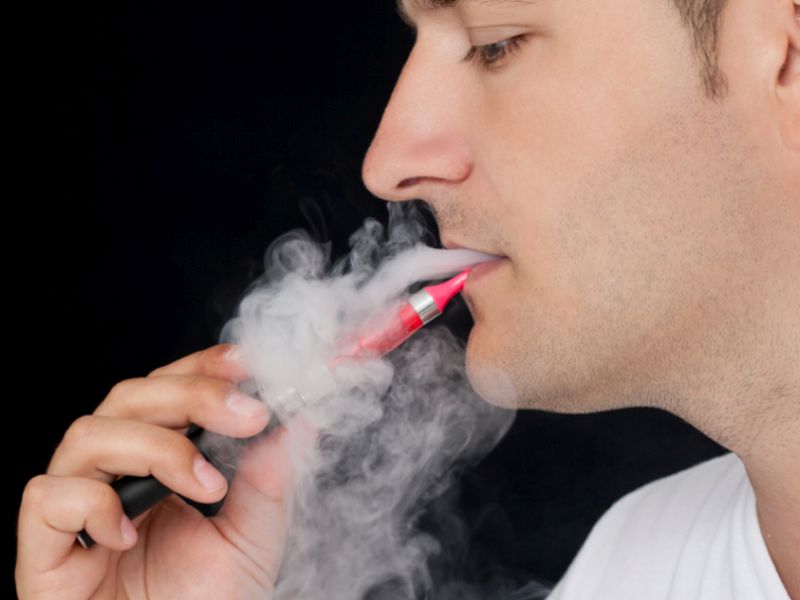 THURSDAY, June 14, 2018 -- Flavorings used in e-cigarettes harm blood vessel cells in a way that could trigger future heart damage, a new study suggests.
Five flavorings tested in the lab damaged the heart-protective functions of endothelial cells, which line the inside of blood vessels and the heart, said study author Jessica Fetterman. She's an assistant professor of medicine at Boston University School of Medicine.
The flavorings -- menthol (mint), acetylpyridine (burnt flavor), vanillin (vanilla), cinnamaldehyde (cinnamon) and eugenol (clove) -- blocked the ability of the cells to produce a gas called nitric oxide, Fetterman said.
"These cells make this gas when they are healthy and happy. It's a really heart-protective factor that does a lot of positive things, like preventing blood clots from forming and inhibiting inflammation," Fetterman said. "We found in the cells we treated with these flavoring additives, they no longer produced this gas."
Increased inflammation and reduced nitric oxide are some of the first changes to occur along the path to heart disease, heart attacks and stroke, Fetterman said.
American Vaping Association president Gregory Conley scoffed at the findings.
"Nothing in this study will change the conclusions of respected organizations like Cancer Research UK and the Royal College of Physicians, both of which agree that the potential risks of vaping are unlikely to exceed even 5 percent that of smoking," said Conley, who leads the nonprofit vaping advocacy group.
But this isn't the first study to link e-cigarette flavorings with potential health hazards. In May, a study presented at the American Thoracic Society's annual meeting found that cinnamaldehyde (cinnamon) flavoring appears to inhibit a key mechanism of the lungs' antibacterial defense mechanism.
For the latest study, Fetterman and her colleagues exposed endothelial cells to nine different flavorings commonly used in e-cigarettes and flavored tobacco products, such as little cigars and hookah pipes.
All nine chemicals caused cell death at the highest levels tested. The other flavors tested were diacetyl (butter), dimethylpyrazine (strawberry), isoamyl acetate (banana) and eucalyptol (spicy cooling).
But even the lowest levels of vanilla, cinnamon, clove and burnt flavor impaired nitric oxide production and boosted an inflammatory chemical called interleukin-6, suggesting that endothelial cells are particularly sensitive to those flavors.
Menthol also reduced nitric oxide at low doses, but increased IL-6 only at higher concentrations.
Dr. Satjit Bhusri is a cardiologist with Lenox Hill Hospital in New York City. He said, "This is an excellent study that certainly shows a direct relationship of inflammation and injury to blood vessels as a result of additives in e-cigarettes."
But Conley noted that such a lab study cannot prove that e-cigarettes are causing direct harm to vapers.
"No matter how the FDA-funded authors try to spin it, applying flavorings to cells in a petri dish is low-level science that can in no way justify the alarmist rhetoric used to promote this study," Conley said.
Fetterman agreed, and said that the next step will be to directly examine e-cigarette users.
"One of our biggest remaining questions is how much of these flavoring additives get into the blood after a person uses an e-cigarette. That's something we don't really know," Fetterman said.
The only long-range data on exposure to flavorings involves menthol, which has been available in traditional cigarettes for decades. Research has shown that smokers of menthol cigarettes receive a "physiologically relevant" dose of the flavor in their bloodstream when they light up, indicating that damage to endothelial cells could be occurring, Fetterman explained.
These results provide further evidence that e-cigarettes are not necessarily a benign way to help quit smoking, said Dr. Benjamin Hirsh, director of preventive cardiology at Northwell Health's Sandra Atlas Bass Heart Hospital in Manhasset, N.Y.
"In the case of e-cigarettes, substituting one harmful habit for another may not provide dramatic reduction in risk," Hirsh said.
The new study was published online June 14 in the journal Arteriosclerosis, Thrombosis and Vascular Biology.
More information
Find out more about e-cigarettes from the U.S. National Institutes of Health.
Copyright © 2018 HealthDay. All rights reserved.