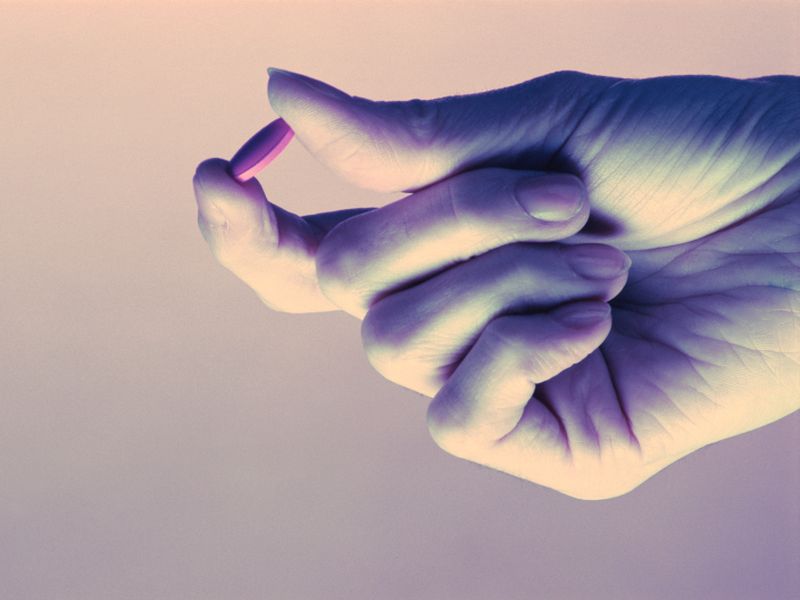 THURSDAY, May 24, 2018 -- Someday doctors may be able to diagnose gastrointestinal (GI) problems without invasive tests by asking patients to swallow a capsule containing a small, bacteria-laced sensor.
The so-called "bacteria on a chip" method pairs tiny electronic sensors with laboratory-enhanced bacteria that react to bleeding in the stomach and other GI disturbances. The sensors then pick up those reactions and send a wireless alert to doctors.
The results of animal tests, involving pigs, have been encouraging. But results of animal research are not always the same in humans.
"Both ingestible electronics and engineered biosensors are diagnostic tools that are being explored by numerous research groups and hold great promise in the future development of new diagnostics," said study lead author Mark Mimee. He's a researcher at Massachusetts Institute of Technology's microbiology program.
In the lab, Mimee's team engineered E. coli cells to give off light when they come into contact with key compounds found in blood.
The engineered cells were placed on a tiny sensor and put into a 1.5-inch digestible capsule. The sensor is covered with a semipermeable seal that lets molecules in the pig's GI tract come into contact with the light-emitting bacteria once the capsule is swallowed.
Phototransistors -- battery-powered electronic chips placed beneath the bacteria -- continuously measure any light that's produced.
For as long as the battery lasts -- about six weeks -- that data can be wirelessly relayed to a computer or smartphone for analysis.
The sensor system accurately detected the presence of blood in the GI tract of pigs, without the need for standard invasive diagnostic techniques -- such as an endoscopy -- that would likely require patient sedation.
"Gastrointestinal bleeding is linked to a variety of ailments, including gastric ulcers, inflammatory bowel disease and colorectal cancer," Mimee noted. "However, we think the future development of additional biosensors to markers of inflammation or liver function could broaden the potential clinical utility of the device."
The capsule is still a prototype and has not been tested in humans. It will take several years to develop a device that can safely diagnose or monitor human disease, he said.
Should such a tool eventually come to market, Mimee said it would likely cost no more than $10 to $100, because both bacteria and the electronics are relatively inexpensive to produce.
The research team has already designed similar sensors to detect signs of both inflammation and infection, though neither has yet been tested in animals. Investigators also hope to reduce the size of the capsule so it would be easier to swallow.
Mimee and his colleagues discussed their findings in the May 24 online edition of Science.
Dr. Peter Gibson, director of gastroenterology at Alfred Hospital and Monash University in Melbourne, Australia, wrote an editorial that accompanied the study. He called the way the researchers outfitted a swallowable capsule with engineered bacteria "clever."
At the same time, Gibson noted that capsule technology has been used for many years. And, he said, techniques employed in the current study do not yet amount to a new diagnostic method, but are rather a first-step "proof of concept of how one can be developed."
Gibson said the particular mechanism Mimee's team explored "has no role in clinical medicine as presented," and its eventual usefulness remains to be seen.
More information
Learn more about gastrointestinal bleeding at the U.S. National Institute of Diabetes and Digestive and Kidney Diseases.
Copyright © 2018 HealthDay. All rights reserved.