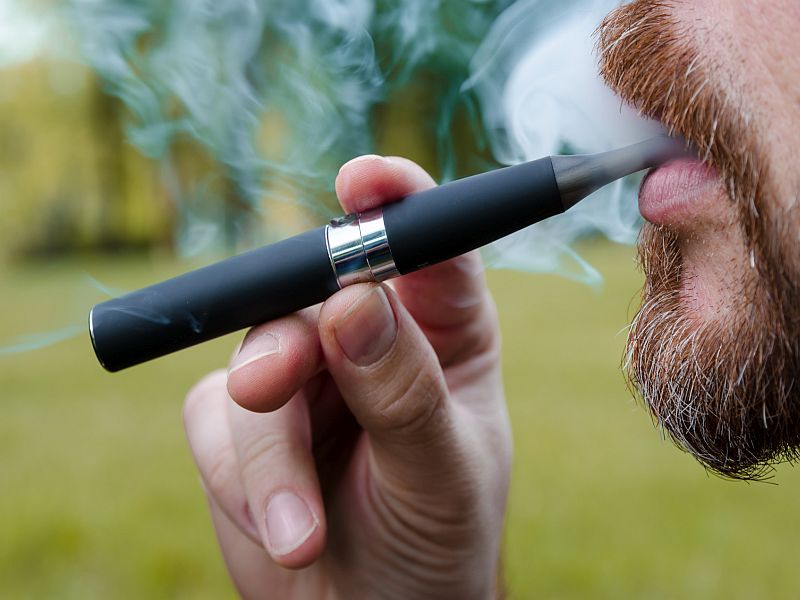 TUESDAY, Jan. 23, 2018 -- Potential harms and benefits of e-cigarettes may depend on your age, according to a report mandated by the U.S. Congress.
The devices can lead young people to smoke conventional tobacco, but they also appear to help adults quit smoking, the experts concluded.
The National Academies of Sciences, Engineering and Medicine report is the first to review all current research on these popular devices, said committee chair David Eaton.
"E-cigarettes can't be simply categorized as either beneficial or harmful," said Eaton. "Evidence suggests that while they're not necessarily without health risks on their own, they are likely to be far less harmful than a conventional cigarette."
Still, little is known about the long-term health effects of e-cigarettes, added Eaton, a professor at the University of Washington School of Public Health.
Millions of Americans use e-cigarettes, according to the report. While the battery-operated products vary, all contain a heating element that produces an inhalable aerosol.
To shed light on e-cigarettes', or vaping's, impact, Eaton's team constructed several population models to project future consequences.
In the short term, over the next 30 years, e-cigarettes are likely to be a public health benefit, the researchers determined. That's "because even a small smoking cessation rate among adult smokers can have a public health impact," Eaton said.
But the effects on children who start smoking tobacco because of e-cigarettes won't be seen for many years. Looking over the next 50 years, e-cigarettes may have a negative public health impact, he added.
Reviewing 800 studies on the human health effects of e-cigarettes, the committee also found that nicotine exposure varies by device, the liquid used to make the vapor and the particular mechanism.
Intake of nicotine -- the addictive component in cigarettes -- can be comparable in e-cigarettes and tobacco cigarettes, the findings showed. However, e-cigarettes contain fewer toxic chemicals, and lower levels of them, than traditional cigarettes.
Switching to e-cigarettes from regular cigarettes can reduce short-term negative health effects "in several organ systems," the authors of the report noted.
However, there is "substantial evidence" that e-cigarette use by teens increases their risk of smoking tobacco.
The report drew mixed reviews.
Gregory Conley, president of the American Vaping Association, said it highlights potential benefits of e-cigarette use and supports U.S. Food and Drug Administration policy.
"The committee's findings fall in line with FDA Director Scott Gottlieb's nicotine strategy, a key element of which involves adult smokers switching to lower-risk products," said Conley.
Erika Sward, of the American Lung Association, sees a different message.
"The report confirms a number of concerns that public health advocates have with regard to e-cigarettes," said Sward, the association's assistant vice president for national advocacy.
These findings highlight why FDA oversight of these products is important, Sward said. "This could very well be damaging, particularly in terms of impacting kids," she said.
The FDA has postponed enacting regulations on e-cigarettes until at least 2022.
Other findings in the report, which was released Tuesday:
E-cigarette use may result in nicotine dependence, but that risk may be lower than with tobacco cigarettes. Also, addiction risk may depend on nicotine concentration and flavoring, device type and brand.
Exclusive use of e-cigarettes may reduce exposure to many toxic and cancer-causing ingredients found in regular cigarettes.
E-cigarettes expose nonsmokers to increased concentrations of some chemicals and nicotine, but such secondhand exposure is lower than with regular cigarettes.
No evidence yet exists to show whether or not e-cigarettes are tied to cancer risk in humans. However, animal studies suggest long-term use might increase odds for cancer.
Whether or not e-cigarettes cause respiratory disease is not known. But evidence exists for more coughing and wheezing in teens who vape versus those who do not. Vaping may also exacerbate asthma.
In terms of other possible hazards, e-cigarettes can explode. And ingestion of e-liquids can cause seizures, brain injury, vomiting, and death.
The National Academies' mission is to provide independent, objective advice to the nation.
More information
For more about e-cigarettes, visit the U.S. National Institute on Drug Abuse.
Copyright © 2018 HealthDay. All rights reserved.