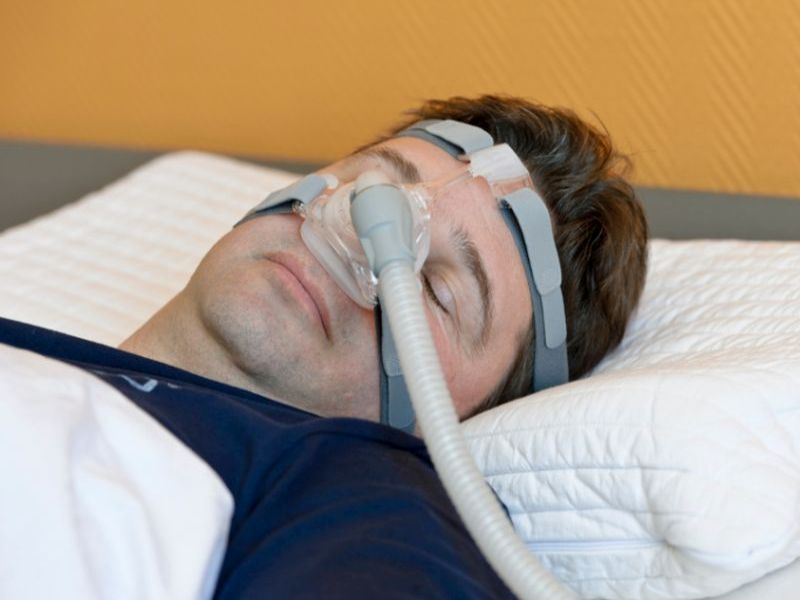 THURSDAY, Sept. 7, 2017 -- People who leave their sleep apnea untreated for just a short time may face a higher risk of spikes in blood sugar levels, stress hormones and blood pressure, a new study finds.
Even a few days of failing to treat sleep apnea can cause these levels to go up, researchers found. They say the findings support the ongoing use of continuous positive airway pressure (CPAP) devices to protect sleepers from airway closure due to sleep apnea.
"This is one of the first studies to show real-time effects of sleep apnea on metabolism during the night," said study senior author Dr. Jonathan Jun, an assistant professor of medicine at Johns Hopkins University School of Medicine in Baltimore.
An estimated 20 to 30 percent of adults have obstructive sleep apnea, which causes a person's airway to close multiple times per hour during sleep.
Sleep apnea causes daytime sleepiness and can kill people with the condition. Researchers haven't determined whether it's directly responsible for diabetes and heart disease, which -- along with obesity -- are more common in those with the condition.
For the new study, Jun and his colleagues monitored 31 obese patients with an average age of 51 as they slept. Two-thirds were male, and most were white (65 percent).
All the subjects had moderate to severe obstructive sleep apnea and were monitored either while using a CPAP device or after not using it for two nights.
During the night, researchers measured levels of fatty acids in the blood, insulin, blood sugar and the stress hormone cortisol. The levels rose in those who hadn't used a CPAP device, and they rose more in those with the most severe cases of sleep apnea.
Researchers also found that blood pressure increased in the patients who hadn't used CPAP devices over the last couple of nights.
In a university news release, Jun said because only obese patients were observed in this study, findings may not apply to all people with sleep apnea, and further studies are needed. But he said the results provide more evidence that sleep apnea isn't just a manifestation of diabetes and cardiovascular disease, it can make these conditions worse.
The study was published recently in the Journal of Clinical Endocrinology & Metabolism.
More information
For more about sleep apnea, try the U.S. National Heart, Lung, and Blood Institute.
Copyright © 2017 HealthDay. All rights reserved.