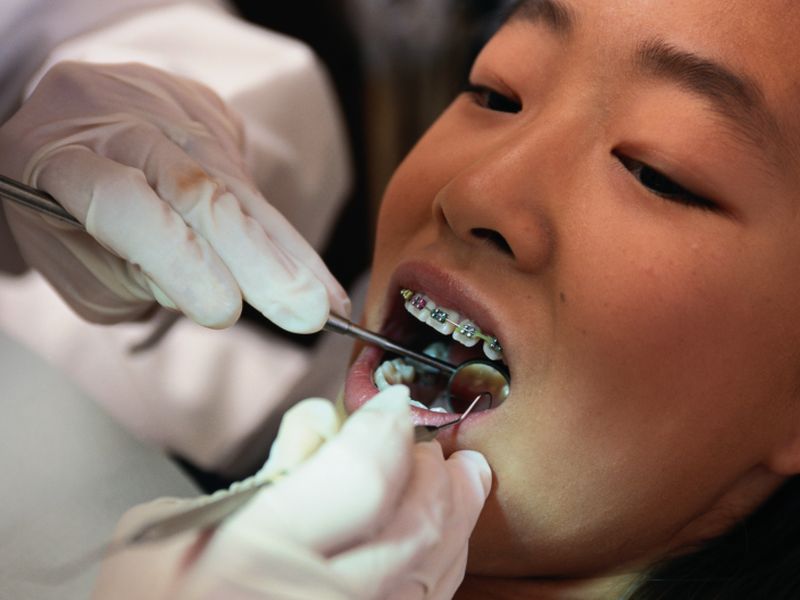 TUESDAY, Aug. 8, 2017 -- Dental care isn't always as risk-free as you might think.
Wire from dental braces showed up in a woman's intestines a decade after her orthodontia work ended, Australian doctors report.
And in a separate case, long-term use of an adhesive for ill-fitting false teeth caused a 62-year-old in Scotland to permanently lose feeling in his legs.
Both cases are described Aug. 7 in BMJ Case Reports.
The otherwise healthy 30-year-old woman was hospitalized after two days of stomach pain. A scan revealed the errant orthodontic wire had pierced several parts of her small intestine.
This caused a condition known as a volvulus, in which the intestine twists around on itself, according to the report.
The patient hadn't worn braces for 10 years and had no recollection of swallowing or losing the wire.
However, after emergency surgery to remove the orthopedic invader, she made a full recovery.
"Foreign body ingestion should be considered as a cause of abdominal pain in patients with no other medical or surgical history," said a team led by Dr. Talia Shepherd of Sir Charles Gairdner Hospital in Nedlands, Western Australia.
The man with the dentures wasn't as lucky. Despite treatment and intensive physical therapy, he still hasn't recovered completely from a rare neurolological disorder caused by the zinc in the adhesive.
By the time he was referred to a neurological clinic, he had had pain, numbness and weakness in his legs for six months, and was housebound.
Doctors observed spinal cord abnormalities in an MRI scan and eventually diagnosed him with copper deficiency myelopathy.
The culprit was zinc in the denture paste he'd used for the past 15 years, the researchers said.
In rare cases, excessive zinc intake can interfere with the absorption of copper, leading to neurological problems, explained Dr. Liam Stuart Carroll and colleagues at Queen Elizabeth University Hospital in Glasgow.
They prescribed copper supplements to treat the man's symptoms, and told him to stop using the denture adhesive.
But the delayed diagnosis may have led to irreversible nerve damage, the doctors said.
"Prompt recognition and treatment" might have prevented permanent deficits, they added.
More information
For tips on dental care in your later years, see healthinaging.org.
Copyright © 2017 HealthDay. All rights reserved.