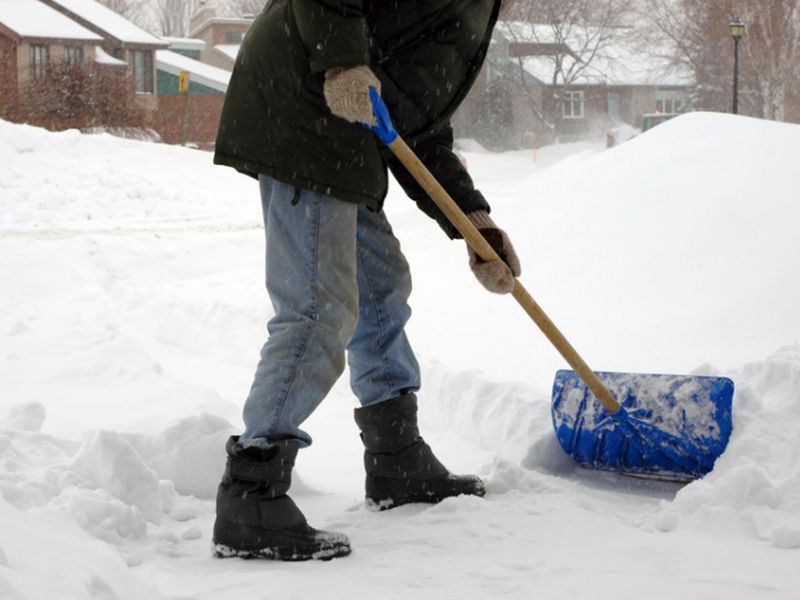 MONDAY, Feb. 13, 2017 -- Shoveling is the probable reason why men are more likely to suffer a heart attack after a heavy snowfall, researchers report.
In a new study, investigators analyzed data on heart attacks between the months of November and April in the province of Quebec between 1981 and 2014. About 60 percent of hospital admissions and deaths due to heart attack were in men.
The findings showed that men's risk of heart attack hospitalization and death was higher after heavy snowfalls. The highest risk was on the day after a snowfall and after snowfalls lasting two to three days. The risk of heart attack after a snowfall was higher regardless of age, cardiovascular risk factors or other health conditions.
The link between snowfalls and increased heart attack risk was not seen in women, the study authors noted.
However, "men are potentially more likely than women to shovel, particularly after heavy snowfalls," according to Dr. Nathalie Auger, of the University of Montreal Hospital Research Center, and colleagues.
"We suspect that shoveling was the main mechanism linking snowfall with [heart attack]," Auger's team reported.
"Snow shoveling is a demanding cardiovascular exercise requiring more than 75 percent of the maximum heart rate, particularly with heavy loads," the researchers added.
The study authors acknowledged that their research lacked data on sex-specific shoveling habits, size of areas shoveled and whether snow removal was manual or with a snow blower.
Although the study did not prove cause and effect, the theory that shoveling is associated with an increased risk of heart attacks among men remains "plausible," the researchers concluded.
The report was published Feb. 13 in the CMAJ (Canadian Medical Association Journal).
Public education campaigns are needed to alert people about the risk of heart attack after a snowfall, and the need to be cautious about shoveling if they have health problems, the study authors said in a journal news release.
Dr. David Alter, of the Toronto Rehabilitation Institute and the University of Toronto, wrote an accompanying commentary in the journal.
He said that the study adds "to our understanding that the act of snow shoveling in cold temperatures sets the stage for an ecobiological-behavioral 'perfect storm,' particularly among those physically deconditioned who have or who are at risk of heart disease."
More information
The U.S. Centers for Disease Control and Prevention has more on winter health and safety.
Copyright © 2017 HealthDay. All rights reserved.