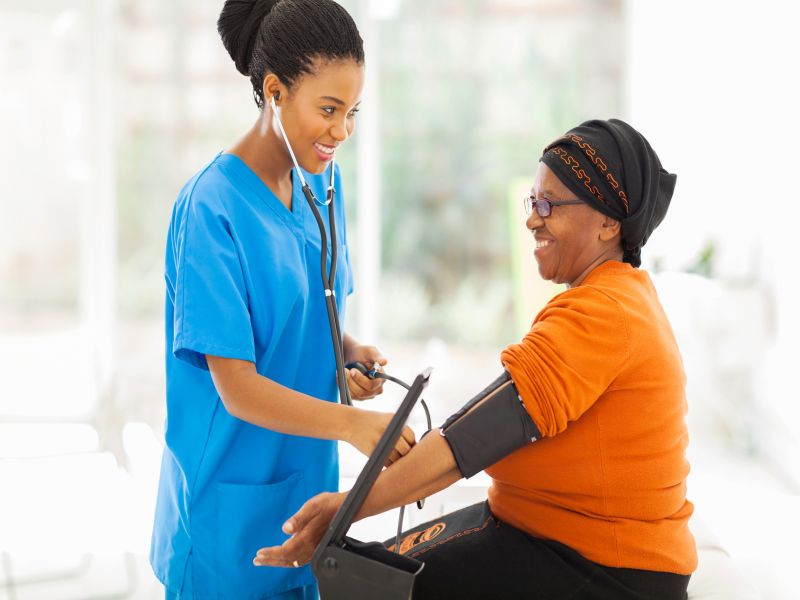 TUESDAY, Jan. 17, 2017 -- Black and Hispanic Americans are less likely than whites to get high blood pressure under control, a new study suggests.
Researchers reviewed data from nearly 8,800 adults who took part in the 2003-2012 U.S. National Health and Nutrition Examination Survey.
The study team found that 74 percent of white patients were getting treatment for high blood pressure. For blacks, the treatment rates were slightly lower at 71 percent. For Hispanics, the high blood pressure treatment rate was only 61 percent.
Researchers also looked at high blood pressure control rates, defined as readings below 130/80 millimeters of mercury (mm Hg) for those with diabetes or chronic kidney disease, and below 140/90 mm Hg for everyone else. Control rates were 43 percent for whites, 37 percent for blacks and 31 percent for Hispanics, the study reported.
Black and Hispanics younger than 60 without health insurance were more than 40 percent less likely than whites without insurance to have their high blood pressure under control.
One bit of good news from the new research: The percentage of all adults with high blood pressure taking medications for their condition rose from 66 to 77 percent during the study period.
The study was published Jan. 17 in the journal Circulation: Cardiovascular Quality and Outcomes.
"High blood pressure is very common, and it is strongly linked to cardiovascular diseases like stroke, heart attack and heart failure," said senior author Dr. Edgar Argulian. He's an assistant professor of medicine and a cardiologist at Mount Sinai St. Luke's Hospital in New York City.
"High blood pressure is also very treatable, so from a public health perspective, it's important to know if prevention and treatment strategies are working and what differences exist across racial and ethnic groups," Argulian said in a journal news release.
Study lead author Dr. Sen Gu said expanded health care coverage could help minimize the differences in high blood pressure treatment. But, "There are multiple factors that contribute to racial disparity," she added.
"We need better patient education, better physician-patient communication and support for patients making lifestyle changes like exercising more and eating healthy," Gu said. She is an assistant professor at St. John's University College of Pharmacy and Health Sciences in New York City.
"The good news is that more people are receiving treatment and getting their high blood pressure under control. At the same time, it is important to note that disparities between whites and racial and ethnic minorities persist," Gu said.
More information
The U.S. National Heart, Lung, and Blood Institute has more on high blood pressure.
Copyright © 2017 HealthDay. All rights reserved.