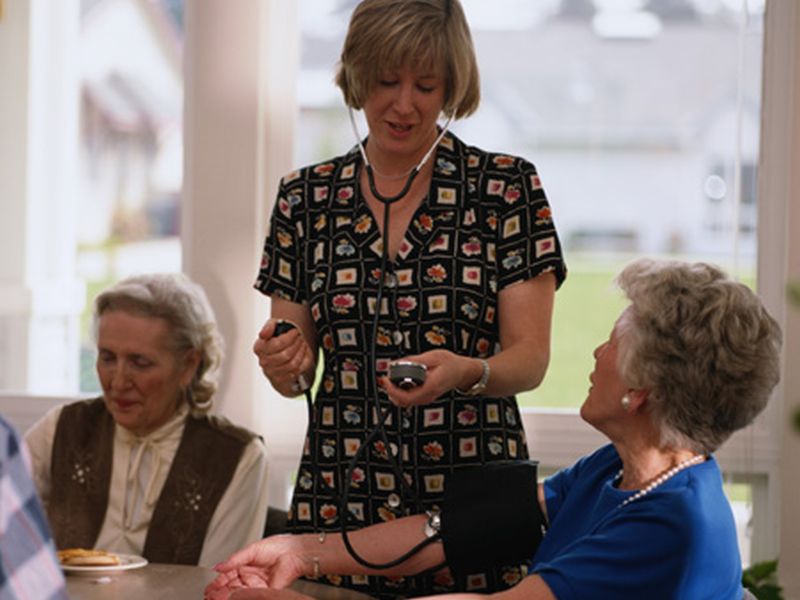 TUESDAY, Jan. 17, 2017 -- Developing high blood pressure in very old age may provide some protection from dementia, a new study suggests.
In middle age, high blood pressure -- also called hypertension -- boosts dementia risk later in life, said study lead researcher Maria Corrada. It also raises your risk for heart attack and stroke.
But its onset in the eighth or ninth decade of life was linked to lower risk of mental decline in one's 90s, her team found.
"Hypertension in the very old is not detrimental for mental health," said Corrada, a professor of neurology and epidemiology at the University of California, Irvine.
Several factors may help explain the apparent association between late-life high blood pressure and lower dementia risk, Corrada said.
For one, as people age, blood pressure may need to increase to keep blood flowing to the brain for normal functioning.
"It's a matter of creating enough pressure to get blood to oxygenate the brain adequately," Corrada said.
The researchers said it's also possible, but less likely, that blood pressure drops as dementia begins due to the deterioration of brain cells. This could mean that elderly people who don't develop dementia will have higher blood pressure.
High blood pressure in the very old might have other benefits, Corrada said. "There is evidence that high blood pressure may also reduce frailty and disability," she said.
It's clear that age matters, Corrada said, although the study didn't prove a cause-and-effect link between high blood pressure and reduced dementia risk.
"Whatever we know and learn about the health of the younger elderly does not necessarily apply to the health of the 'oldest old' -- the fastest-growing segment of the population," she said.
To avert a public health epidemic of dementia, it's important to understand how risk for mental decline might change over time, the researchers and others said.
High blood pressure may need to be divided into at least two classes, said Dr. Sam Gandy, a New York City brain specialist.
"We usually think of the young adult onset form, which if untreated can damage heart, kidney, eye and brain blood vessels," said Gandy, director of the Center for Cognitive Health at Mount Sinai Hospital in New York City.
A second class may be late-life hypertension, which is driven by a brain in "distress," he said.
"This distressed brain, through neurological mechanisms, could be causing blood pressure to rise in an attempt to improve blood flow and relieve the distress," Gandy explained.
The new findings may explain why treating late-life hypertension has recently failed to reduce dementia, added Gandy.
For the study, Corrada and her colleagues followed 559 people aged 90 and older for nearly three years. The participants were free from dementia at the start of the study.
The researchers checked blood pressure history and assessed the participants for dementia every six months during the course of the study. During follow-up, 40 percent developed dementia.
High blood pressure was defined as a systolic pressure of 140 mm Hg or greater and a diastolic pressure of 90 mm Hg or more, Corrada said. Systolic pressure is the first number in a blood pressure reading.
The researchers found that those who developed high blood pressure after age 80 were 42 percent less likely to develop dementia in their 90s compared to those with normal blood pressure. And, those whose high blood pressure started after age 90 were 63 percent less likely to develop dementia versus those without hypertension.
The link remained even if patients were taking blood pressure-lowering medications, according to the study.
These findings echo other seemingly inconsistent findings about the risk for dementia. For example, two studies have shown that people who are overweight at 75 or beyond have a lower risk for mental dysfunction, Corrada said.
It's not completely understood why high blood pressure and heaviness might become protective in old age, said Heather Snyder, director of medical and scientific operations at the Alzheimer's Association.
"We need to better understand the connection between the cardiovascular system and our brains," Snyder said.
In the meantime, do what you can to maintain good heart health as you age, she added.
The report was published online Jan. 17 in the journal Alzheimer's & Dementia.
More information
For more about dementia, visit the Alzheimer's Association.
Copyright © 2017 HealthDay. All rights reserved.