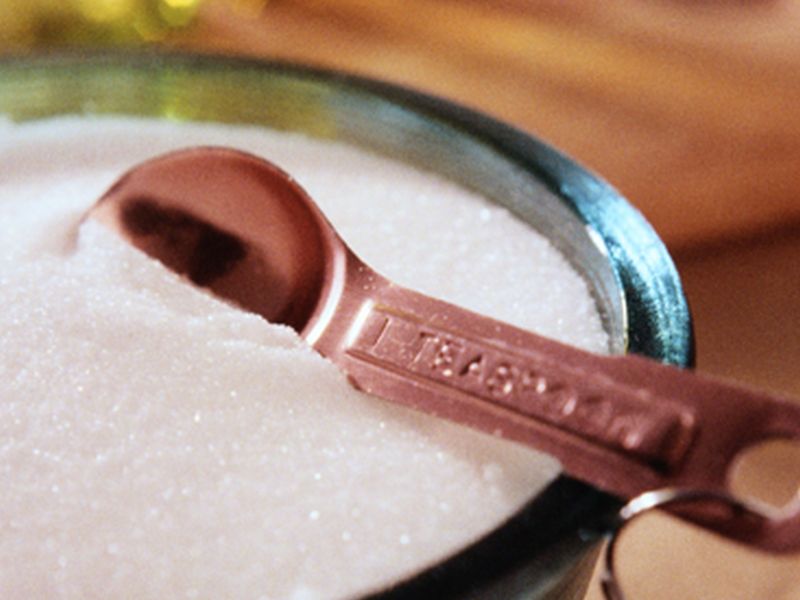 THURSDAY, Jan. 12, 2017 -- Two-thirds of packaged foods and beverages in Canada contain at least one added sugar, a new study shows.
"People may be surprised to learn how many packaged foods and beverages have sugars added to them, especially foods that most would consider 'healthier,' " said study co-author Erin Hobin.
A number of health organizations recommend limiting added sugars to a maximum of 5 to 10 percent of daily calories consumed, the researchers said.
But all that added sugar in packaged foods and drinks may make it difficult to limit the amount of the sweet stuff that kids and other family members eat.
The study authors looked at more than 40,000 packaged foods and beverages sold at national supermarket chains in Canada. They found that 66 percent had at least one added sugar listed in their ingredients. These products even included some infant formulas and baby food products and so-called 'healthier' foods such as yogurt, juice, breakfast cereals and snack bars.
Added sugars included sugar, dextrose, high-fructose corn syrup, glucose, fructose and fruit juice concentrate.
"Added sugars were highest in the expected food products such as candy, sweet bakery products and soda pop. But we also found that the majority of products frequently marketed as 'healthy' options, like granola bars or yogurt, also listed added sugars in their ingredients," said Hobin. She is a scientist at Public Health Ontario's health promotion, chronic disease and injury prevention division.
"In addition, almost half of all infant formulas and baby food we studied listed added sugars as part of their ingredients," she said in an agency news release.
Study senior author David Hammond said: "The number of products that contained added sugars was surprisingly high, particularly for beverages and baby foods." Hammond is from the University of Waterloo's School of Public Health.
The study authors noted that it's hard for consumers to know which products have added sugars using current labeling. And, it's "impossible to identify amounts of added sugars in packaged foods," Hammond said.
Health Canada, the department of the national government in charge of public health, recently proposed changes to nutrition labeling. Hammond said these changes may include "traffic lights" on the front of packaging to help consumers identify foods high in added sugars.
The study was published Jan. 12 in the journal CMAJ Open.
More information
The U.S. Department of Agriculture has more on added sugars.
Copyright © 2017 HealthDay. All rights reserved.