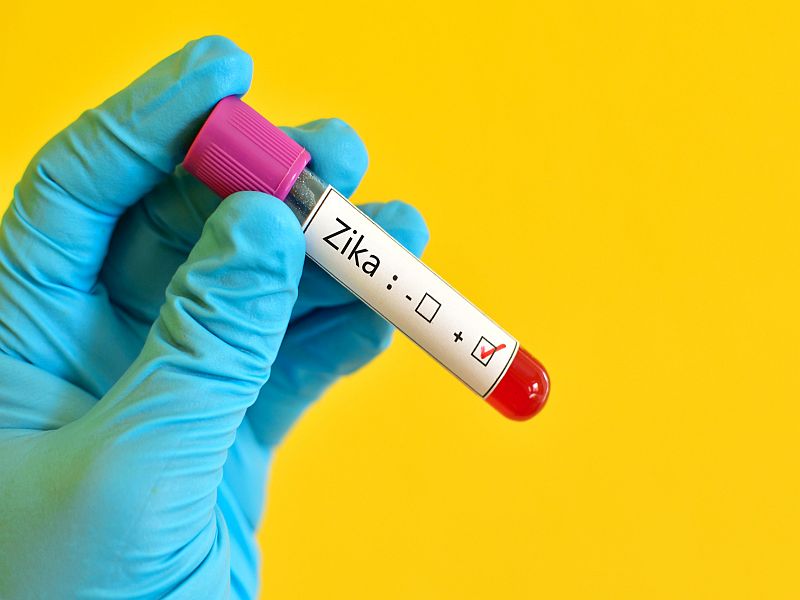 THURSDAY, Jan. 12, 2017 -- The first case of locally acquired Zika virus in a pregnant woman in the United States did not result in devastating birth defects, doctors report.
In a case study from the University of Miami, doctors provide new insight into the mosquito-borne virus, showing fetal exposure doesn't necessarily mean infection.
The report also alerts doctors to suspect Zika in patients who may have traveled to south Florida, not just to areas outside the country where the virus is more prevalent.
The infant -- born full-term in October -- showed none of the devastating birth defects linked to Zika, such as microcephaly (an abnormally small head and underdeveloped brain).
"Initially, everything with the baby looked fine," said Dr. Ivan Gonzalez. He is co-director of the Zika response team at the University of Miami Miller School of Medicine, where the mother and baby were patients.
Because the infant was not infected with Zika, Gonzalez remains optimistic about the baby's development.
"Over time we are going to learn that this baby was just exposed, but not infected," he said.
The case began last July. In the 23rd week of pregnancy, the 23-year-old Florida woman developed a fever, widespread rash and sore throat followed by muscle and joint pain. Blood tests confirmed she had Zika.
Although her blood tested positive for Zika for six weeks, her pregnancy proceeded normally, according to the report. Ultrasound examination showed no fetal brain abnormalities.
Doctors continue to monitor the infant because of reports that Zika-related developmental problems can arise in the months and years after birth.
These problems include brain abnormalities with and without microcephaly, neural tube defects and other brain malformations. Eye abnormalities and deafness can also result, according to the U.S. Centers for Disease Control and Prevention.
The report was published online Jan. 11 in the New England Journal of Medicine.
Dr. Lucy Chen, a dermatologist at the school of medicine, was the first to see the mother-to-be.
"I was consulted, as a dermatologist, to see a pregnant patient with a rash. After testing some of her blood, we found out that she had Zika," Chen said.
It was determined that the virus was acquired in Miami. Doctors were surprised that the infection remained in her body for six weeks. This is an example of how the virus can circulate in the body of a pregnant woman for more than the typical one to two weeks, the researchers said.
The rash is not uncommon with Zika, but many physicians don't recognize it as a symptom of Zika, Chen said. If a pregnant woman develops such a rash and is in an area where Zika is active, she should see her doctor for a blood test, she stressed.
Zika is transmitted by the Aedes aegypti mosquito. Florida's Miami-Dade County has the highest number of locally transmitted and travel-related Zika cases in the United States.
But nearly all of the 4,600 known cases of Zika in the United States involved travelers who visited areas in Latin America and the Caribbean, where Zika is circulating, the authors of the report pointed out.
However, neither this patient nor her partner had left the United States. Since her case, more than 200 other cases of locally acquired Zika have been identified in the United States, according to the CDC.
So, what should doctors look for?
"A rash is common for this type of virus," said Dr. Marc Siegel, a professor of medicine at NYU Langone Medical Center in New York City.
"We see it a lot with dengue, and now we are seeing it with Zika," he said, referring to another mosquito-transmitted virus. "The problem with Zika is 80 percent of the time there are no symptoms at all." Siegel was not involved in the woman's case.
According to the CDC, the proportion of infants with Zika-related birth defects is similar for infected pregnant women who had symptoms and for those who didn't -- about 6 percent.
Gonzalez advises pregnant women or women considering pregnancy who are in Zika-affected areas to wear mosquito-protective clothes and use insect repellent. Women should also use safe sex practices because Zika can be transmitted sexually.
The quick action of public health officials kept Zika tamped down in Miami, Gonzalez said. They educated the public, tested mosquitoes and sprayed to eliminate mosquitoes that carry the virus.
"The impact is limited by our reaction time," Gonzalez said. Now, in winter, mosquito activity is low. But he expects activity to flare up again in April when temperatures rise in Miami.
More information
The World Health Organization has more on Zika.
This Q & A will tell you what you need to know about Zika.
To see the CDC list of sites where Zika virus is active and may pose a threat to pregnant women, click here.
Copyright © 2017 HealthDay. All rights reserved.