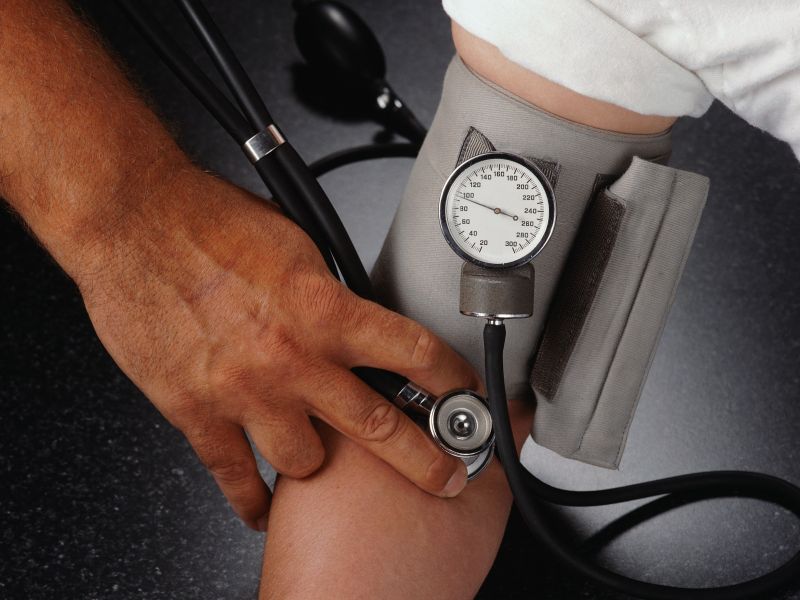 TUESDAY, Jan. 10, 2017 -- As the number of people around the world with elevated or high blood pressure increases, so do the number of deaths linked to this "silent killer," a new study contends.
An international analysis of nearly 9 million people states that the rate of high blood pressure (hypertension) and elevated blood pressure (prehypertension) jumped between 1990 and 2015.
"There are almost 900 million people in the world with hypertension, and there are almost 3.5 billion people with elevated blood pressure that doesn't quite meet the definition of hypertension," said study lead author Christopher Murray. He directs the University of Washington's Institute for Health Metrics and Evaluation in Seattle.
"Blood pressure is the leading cause of premature death and disability in the world," Murray said.
Blood pressure is made up of two numbers. The top number, called systolic pressure, measures the pressure in the arteries when blood is being pumped from the heart. The bottom number, the diastolic pressure, measures pressure between heartbeats. Blood pressure is expressed in millimeters of mercury (mm Hg).
The study authors said that even systolic blood pressure within what is considered a normal range -- less than 120/80 mm Hg, according to the American Heart Association -- can increase the risk of heart attack and stroke.
In the study, systolic blood pressure of 110 to 115 mm Hg was considered elevated, while 140 mm Hg and higher was considered high blood pressure.
According to study co-author Dr. Gregory Roth, the researchers chose to look at blood pressures at 110 to 115 mm Hg -- well below the clinical definition of high blood pressure -- because this is where the risk of high blood pressure begins.
"The definition of hypertension is a systolic pressure greater than 140 mm Hg. However, there is very strong evidence that the risk of having an elevated blood pressure begins above 115 mm Hg," said Roth, an assistant professor of cardiology at the University of Washington in Seattle.
What's lacking is evidence that people with blood pressure between 115 and 140 mm Hg should be taking medications to lower it. There are other ways to control blood pressure, including healthy lifestyle choices and maintaining a normal weight, Roth said.
Murray said some of the factors responsible for the worldwide increase in high blood pressure are unhealthy diets and obesity. In addition, in developing countries, more people are living in cities and getting less physical activity.
Also, the world's population is aging, and blood pressure often increases with age, Murray explained.
"High blood pressure affects a huge number of people, and it's getting worse. And yet, there is effective prevention through lifestyle changes and a wide array of effective medical therapies for managing blood pressure," he said.
The number of people with systolic pressure of at least 110 to 115 mm Hg is likely to continue to increase, the study authors added.
One heart expert noted that people don't have normal blood pressure one day and high blood pressure the next.
"The conventional thinking that there is a threshold when one goes from normal blood pressure to high blood pressure is not accurate," said Dr. Mark Creager. He directs the Heart and Vascular Center at Dartmouth-Hitchcock Medical Center in Lebanon, N.H.
"There's a gradual increase in risks from blood pressures that start much lower than 140 mm Hg. Even people with blood pressure lower than that need to be aware that there is an increased risk," Creager explained.
For the study, the researchers reviewed 844 studies from 154 countries. The studies were published from 1980 to 2015 and included nearly 8.7 million people.
Over those years, the annual death rate rose from 136 to 145 per 100,000 among those with a systolic pressure of at least 110 to 115 mm Hg. Among those with systolic pressure of 140 mm Hg or more, the annual death rate increased from 98 to 106 per 100,000, the researchers found.
Most blood pressure-related deaths were caused by heart disease (5 million), bleeding in the brain (2 million), and stroke (1.5 million), the findings showed.
Five countries -- the United States, China, India, Indonesia and Russia -- accounted for more than 50 percent of elevated or high blood pressure cases, according to the study.
The study, funded by the Bill and Melinda Gates Foundation, was published Tuesday in the Journal of the American Medical Association.
More information
For more about high blood pressure, visit the American Heart Association.
Copyright © 2017 HealthDay. All rights reserved.