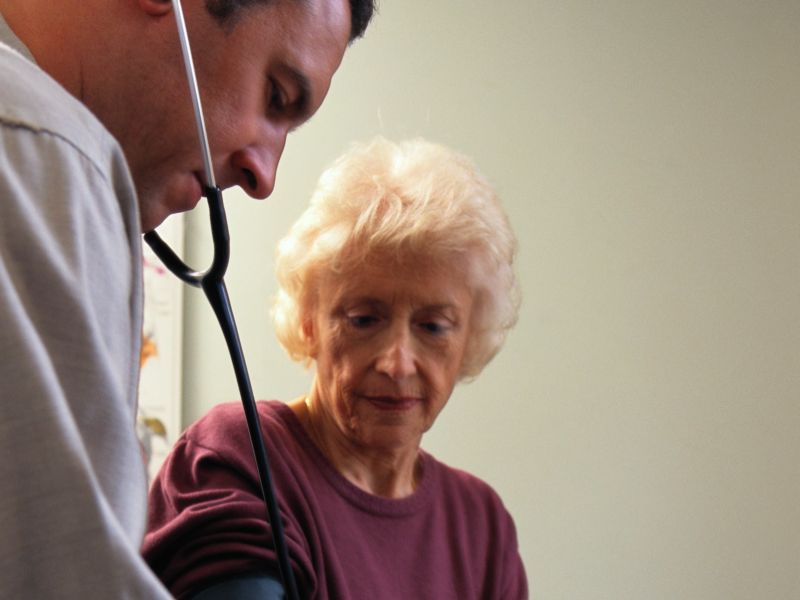 WEDNESDAY, Nov. 16, 2016 -- Half of patients hospitalized with the heart rhythm disorder atrial fibrillation aren't given blood-thinning drugs that reduce the risk of clots and stroke, a new study finds.
Atrial fibrillation, a type of irregular heartbeat, puts people at higher risk for blood clots and stroke, researchers from Duke University said.
They analyzed nearly 1.6 million admissions for atrial fibrillation at 812 hospitals across the United States over five years and found that only 46 percent of patients received blood thinners at discharge.
"This low rate of [blood thinner] use in hospitalized patients highlights an important opportunity to improve care in atrial fibrillation patients," said study co-author Dr. Sean Pokorney, an electrophysiology fellow at Duke School of Medicine in Durham, N.C.
The patients in the study were 40 and older, stayed in the hospital for at least one day, and had a stroke risk score of 2 or higher, making them candidates for treatment with blood thinners, according to American Heart Association and American College of Cardiology guidelines.
The stroke risk score uses several factors such as age, gender, and history of heart failure, stroke, diabetes, high blood pressure and vascular disease. The higher the score, the greater the stroke risk.
"However, in certain cases, it may not be safe for patients with a high stroke risk score to take blood thinners because of complications that could arise," Pokorney said in a university news release.
"Still, we think 50 percent [of patients on blood thinners] is too low and that there are thousands of preventable strokes happening in the United States each year because of the low rates of [blood thinner] usage," he added.
The researchers said possible reasons for the low use of blood thinners in these patients include: poor understanding about the condition and the risk of stroke; concerns about using the drugs in these patients; and the belief among health care providers and systems that use of the drugs is an outpatient, rather than an inpatient, issue.
The study was to be presented Monday at the annual meeting of the American Heart Association, in New Orleans. Findings presented at meetings are typically considered preliminary until they've been published in a peer-reviewed journal.
More information
The American Heart Association has more on atrial fibrillation.
Copyright © 2016 HealthDay. All rights reserved.