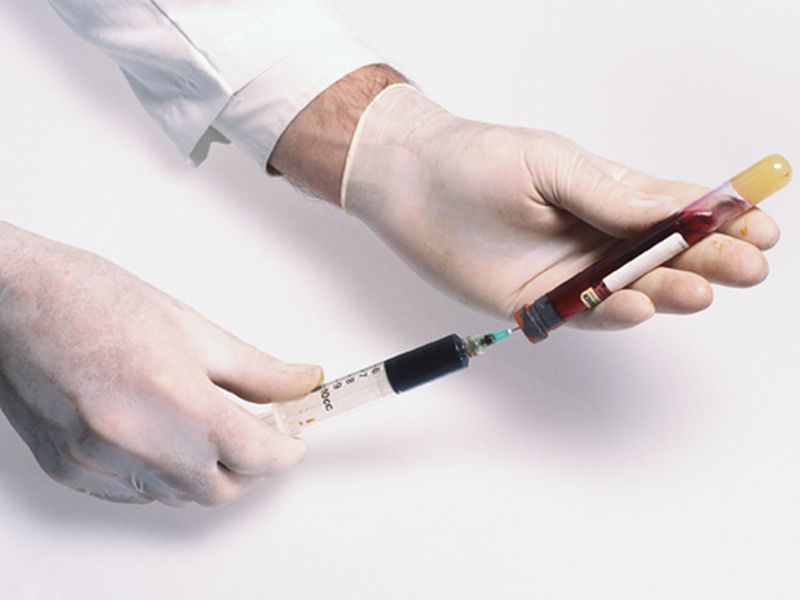 FRIDAY, Oct. 28, 2016 -- Researchers report that a new medication might revolutionize the treatment of HIV patients who don't respond to existing drugs.
The intravenous drug, known as ibalizumab, is given every two weeks. It's now in the final stage of research required before drug makers can seek U.S. government approval.
"These are sick, vulnerable, desperate patients," said study author Dr. Jacob Lalezari, an assistant clinical professor of medicine at the University of California, San Francisco.
"They're in a bind, and this is potentially a lifesaving therapy," said Lalezari, who is also medical director for Quest Clinical Research.
The drug targets patients with multi-drug-resistant HIV, meaning they don't respond to many of the medications used to treat the AIDS-causing virus. It's estimated that 10,000 HIV patients in the United States are immune to several drugs, the researchers said.
For most HIV patients, Lalezari said, antiretroviral drugs keep the virus in check and prevent development of AIDS. But some patients develop drug resistance for a variety of reasons.
They may be infected with a drug-resistant virus or fail to regularly take HIV medications, allowing the virus to strengthen, he said. These patients are often at the brink of death, he added.
The study authors tested the new drug in 40 patients with multi-drug-resistant HIV.
The patients had been infected with HIV for an average of 21 years. After seven days, 83 percent of patients showed a significant response. In 60 percent of patients, the level of virus in their blood fell by 90 percent, Lalezari said.
That's "a pretty big deal," he said, and would allow patients to take additional HIV drugs to help fight the virus even more.
"It gives physicians a chance to cobble together a new cocktail," Lalezari said.
However, the drug didn't appear to help 17 percent of the patients, and it's not clear why. Their prognosis would remain grim, he said.
Two patients in the study died, Lalezari added.
Lalezari noted a "double return" from this drug: It will potentially prevent treated patients from transmitting the virus to other people, he said.
The drug's cost is still unknown, he said. It's what is known as a biologic, genetically engineered to protect immune cells from HIV. Biologic medications can be extremely expensive, costing thousands of dollars a month in some cases.
More data from this final phase of research still needs to be released. It will touch on issues like side effects. However, "I don't see any safety issues," Lalezari said.
The study was funded by TaiMed Biologics, the drug's maker. The research team included employees of the company.
Lalezari predicted the drug will be most useful in Western countries because that's where patients have had a chance to try -- and become resistant to -- different HIV medications.
Ibalizumab is the only drug in the pipeline to treat this specific group of patients, Lalezari said. Its every-other-week administration could simplify treatment for some patients, he said. And researchers eventually hope it can be injected like insulin, he added.
Dr. Myron Cohen is chief of infectious diseases at the University of North Carolina School of Medicine at Chapel Hill. He said this type of drug -- known as a monoclonal antibody -- is also attracting "great attention" as a possible tool to prevent and treat HIV at the outset, not just after drug resistance develops.
What about the risk that more people will develop immunity to existing HIV drugs?
"This is not like a looming pandemic, like multi-drug-resistant tuberculosis," Lalezari said. In HIV patients, "it's a much smaller problem than five, 10 or 15 years ago, or even last year."
Cohen agreed. He said earlier treatment, strong drugs, simple regimens, and "great and continued education of providers and patients" have helped stem the tide.
The research was to be presented in New Orleans Saturday at IDWeek, the annual meeting of the Infectious Diseases Society of America and three other organizations. Studies released at conferences are usually considered preliminary until they're published in peer-reviewed medical journals.
More information
For more about drug-resistant HIV, see the U.S. National Institutes of Health.
Copyright © 2016 HealthDay. All rights reserved.