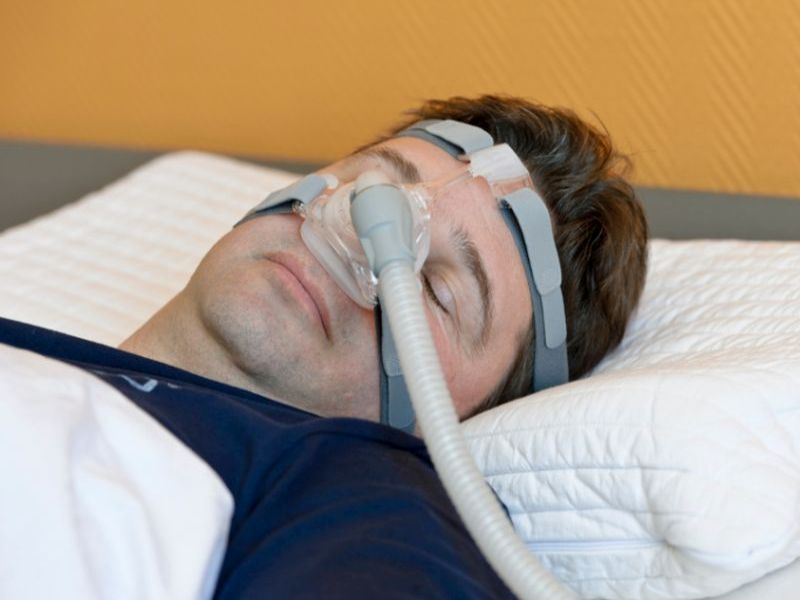 TUESDAY, Aug. 30, 2016 -- The nighttime breathing difficulties of obstructive sleep apnea have long been linked to an increase in cardiovascular risks.

However, a new study throws confusion into that link. While treatment with CPAP did lower sleep apnea symptoms, it did nothing to lower users' long-term odds for heart attack, stroke or heart-related death.

CPAP stands for "continuous positive airway pressure," with users wearing a special mask during the night to help them breathe easier.

Unfortunately, "our study does not support the use of CPAP treatment solely for the prevention of future cardiovascular events in patents who have established [heart] disease," said study author Dr. Doug McEvoy. He's a clinician at the Adelaide Institute for Sleep Health at Flinders University in Adelaide, Australia.

In the study, McEvoy's team selected more than 2,700 people with moderate-to severe sleep apnea from 89 clinical centers across seven countries. Most were older males (average age 61), and were overweight, habitual snorers. All had been diagnosed with some form of heart disease.

About half the participants were randomly chosen to receive CPAP, while the others got "usual care" -- standard heart disease care plus advice on trying to maintain healthy sleep without CPAP.

None of the participants who used CPAP had done so prior to the trial, but all were given time to get used to the device before the trial started.

CPAP therapy is notoriously tough to stick to, however. The new study reflected this, with people averaging only about three hours' use of the device a night.

McEvoy's team tracked cardiovascular outcomes for the two groups for almost four years.

The result: no differences between CPAP users and non-users in rates for heart-related death, heart attack or stroke or mini-stroke (transient ischemic attack), or hospitalization for heart failure.

For example, 17 percent of patients in the CPAP group had a "serious cardiovascular event" (such as heart attack or stroke), compared to 15.4 percent of non-users -- not a statistically significant difference.

On the other hand, CPAP users reported reductions in daytime sleepiness, a boost in health-related quality of life, fewer work days lost, and better mood, with less risk of depression.

But why didn't these improvements translate to better heart health, too?

McEvoy believes that, for one thing, prior observational studies may have "overestimated" the link between sleep apnea and cardiovascular outcomes. If the link is weaker than was thought, then curbing sleep apnea might not bring about as big a heart benefit as hoped, he reasoned.

Another factor might be that many participants could only use CPAP about three hours a night -- perhaps not long enough to bring about a benefit to the heart, McEvoy said. That rate of compliance does reflect real-world use, however, he added.

McEvoy pointed out that the study participants who were able to use the treatment even a bit longer -- four or more hours -- did show "a trend toward a reduction in stroke."

All of this suggests that "better-tolerated obstructive sleep apnea therapies, or new ways of making CPAP more tolerable, may be needed before a benefit of [the] treatment on cardiovascular outcomes can be shown," McEvoy said.

The study was published Aug. 28 in the New England Journal of Medicine and presented simultaneously in Rome at the annual meeting of the European Society of Cardiology.

Dr. Richard Chazal is president of the American College of Cardiology and medical director of the Heart and Vascular Institute at Lee Memorial Health Institute in Fort Myers, Fla.

Chazal called this a "very well-done study." Based on these findings, he said, "I cannot be certain" that using CPAP in the range of three hours is going to reduce a patient's heart risk.

However, Chazal agreed with McEvoy that some benefit to heart health might appear with longer nightly duration of CPAP use.

Still, "there are a lot of people who have difficulty staying with it through the night," Chazal said. "I think that that calls on physicians, caregivers and the whole team to look for ways to increase compliance."

On the other hand, CPAP does appear to improve day-to-day life for most patients, he said.

"So I would also say [to patients], 'Gosh, wouldn't you like to snore less, feel better tomorrow, have a little bit more energy and feel less depressed?' " Chazal said. "Most of us would say, 'Yeah, that sounds pretty great.' "

More information

For more on CPAP therapy, head to the U.S. National Heart, Lung, and Blood Institute.

Copyright © 2016 HealthDay. All rights reserved.