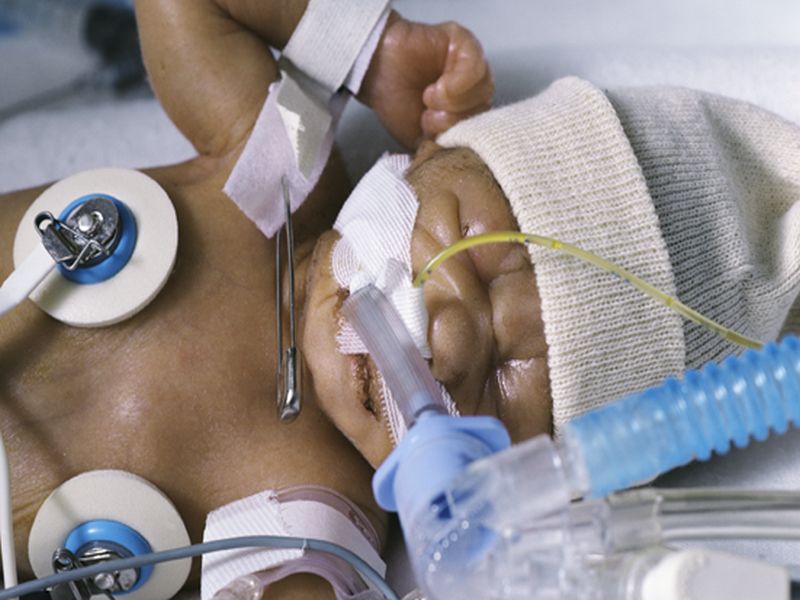 FRIDAY, Aug. 19, 2016 -- Steroids used to help premature babies' lungs work may increase their risk of eye problems, a new study suggests.

Doctors often give corticosteroids to babies whose birth weight is very low to improve lung function, but it's long been suspected that the drugs may have harmful side effects.

"Clinicians need to use their best judgment to balance the positive effects from steroids on developing lungs with potential negative effects on developing eyes in very premature infants," said lead investigator Dr. Tammy Movsas.

For the new study, the researchers analyzed data from nearly 1,500 infants who weighed less than 500 grams (1.1 pounds) at birth.

Although the study couldn't prove cause-and-effect, the risk of an eye condition called retinopathy of prematurity (ROP) was 60 percent higher for babies treated with steroids, the researchers found.

And babies' risk of developing an advanced case of ROP was 70 percent higher if they were on the drugs, the findings showed.

Movsas called the increased ROP risk modest, but significant.

The study was published recently in the Journal of the American Association for Pediatric Ophthalmology and Strabismus.

"This study has potential clinical significance since children with a history of ROP are not only at increased risk for visual impairments from the ROP itself, but are also at increased risk for developing other ocular disorders later in life," Movsas said in a journal news release.

Movsas is medical director of the Midland County (Mich.) Department of Public Health and a clinical associate professor of pediatrics and human development at Michigan State University.

More information

The March of Dimes has more on retinopathy of prematurity.

Copyright © 2016 HealthDay. All rights reserved.