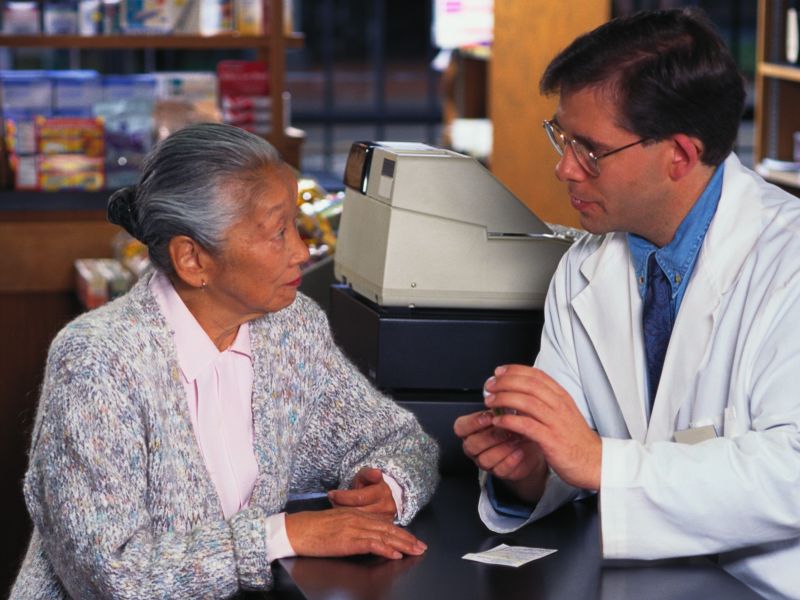 MONDAY, April 25, 2016 -- Pharmacists may do a better job than doctors helping chronically ill patients manage their blood pressure, cholesterol and blood sugar levels if they're allowed to direct people's health care, a new evidence review suggests.

The review also found that pharmacists could manage chronic diseases with about the same efficiency as doctors.

However, current evidence doesn't show whether pharmacists can actually improve a patient's overall health if they take over someone's care from a doctor, said study senior author Dr. Timothy Wilt. He's a professor of medicine at the University of Minnesota Medical School, and a staff physician at the Minneapolis VA Health Care System.

Wilt and his colleagues also couldn't show whether having a pharmacist manage your care can help you live longer or reduce symptoms caused by chronic ailments such as heart disease or diabetes.

"That was a bit frustrating for us, because that's really what patients really care about -- will it help them live longer and live better?" Wilt said.

The reason for the interest in pharmacist-driven care is that some areas of the United States don't have enough doctors. Due to these shortages, other types of health care workers, such as nurse practitioners or physician assistants, are being called on to help fill the gaps, Wilt said.

New legislation introduced in Congress would establish pharmacists as health care providers, and pay them accordingly through Medicare in communities where there aren't enough doctors, the study authors said.

Pharmacists acting as a person's primary care provider would be able to evaluate a patient's health, advise them how to best manage their chronic conditions, and possibly even have the power to order tests or prescribe medicines, Wilt said.

They also could send patients to a doctor for any procedure they might need, such as an injection for knee pain or removal of a wart, he said.

To determine how well pharmacists might perform if they led the management of a person's chronic disease, Wilt and his colleagues reviewed 63 published studies. The studies included 65 different patient populations with more than 33,000 people.

The findings suggest that patients receiving pharmacist-led care were more likely to achieve target goals for blood pressure, cholesterol and blood sugar compared with patients receiving usual care.

Pharmacist-led care also increased the dosage or the number of medications being received. "It's not clear whether that's a good thing or not," Wilt said. "Some people should be on more medications, but for others, they should be on less."

But the study authors concluded there's not enough evidence to say whether people actually are healthier and do better when a pharmacist manages their care.

Anne Burns, vice president of professional affairs for the American Pharmacists Association, said the study shows "pharmacists' medication expertise and extensive training can help to address unmet health care needs in this country.

"We are pleased that this study found that pharmacists can effectively manage the care of patients with chronic conditions," Burns said.

There are a number of ways health care dollars could be saved if pharmacists are managing chronic diseases, Wilt said.

Pharmacists are paid less than physicians, and having them handle day-to-day chronic disease care would free up doctors to see patients with more serious and complex health problems, Wilt said.

Dr. David Katz, director of the Yale University Prevention Research Center, agreed that the findings show that "some portion of what now constitutes the primary care management of chronic conditions can be taken over ably by pharmacists."

However, some tasks such as initial diagnosis, troubleshooting and customization of treatment should remain the responsibility of a physician, Katz said.

"But the [long-term] oversight of an established treatment plan may be provided as ably by a pharmacist as a physician, and at lower cost," he said. "Health care professionals embracing complementary roles as part of an overall care team is one of the best, short-term strategies for raising the quality while lowering the costs of such care. I am all for it."

The study was published online April 25 in the Annals of Internal Medicine.

More information

For more on pharmacist-led care, visit the American Society of Health-System Pharmacists.

Copyright © 2016 HealthDay. All rights reserved.