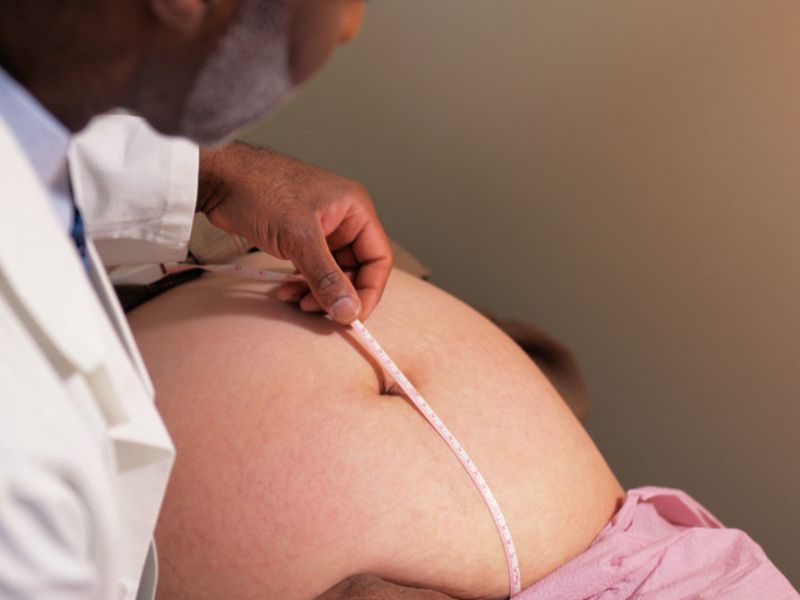 THURSDAY, April 7, 2016 -- Doctors have long known that pregnant women who are obese or have diabetes are more likely to have abnormally large babies. Now a new study suggests that this rapid fetal growth happens early in pregnancy.

British researchers found that babies born to mothers who were obese or had pregnancy-related diabetes were often already overly large by the sixth month of pregnancy.

The researchers said the findings could have practical implications: Right now, pregnant women are routinely screened for diabetes, but often not until the sixth month (24 weeks).

This study raises the question of whether that's too late, said senior researcher Dr. Gordon Smith, of the University of Cambridge.

"Our study shows that the babies of obese women were more likely to be excessively large around the abdomen even as early as 20 weeks [into pregnancy]," Smith said.

Women who were diagnosed with pregnancy-related diabetes showed a similar pattern -- though their babies' rapid growth became apparent a bit later, at the 28th week of pregnancy, he said.

In the United States, the U.S. Preventive Services Task Force recommends that women be screened for pregnancy-related diabetes after the 24th week of pregnancy.

But, the American Congress of Obstetricians and Gynecologists (ACOG) does advise earlier screening for women at increased risk of pregnancy-related diabetes -- including those who are obese, said Dr. Raul Artal. He is professor emeritus of obstetrics and gynecology at Saint Louis University School of Medicine, in St. Louis.

If a woman screens negative, the test should be repeated between the 24th and 28th week of pregnancy, he added.

Regardless, having an excessively large baby is risky for a number of reasons, Artal explained.

For one, it can complicate childbirth and necessitate a cesarean-section delivery. Big babies are also at risk of dangerous blood sugar lows and breathing difficulties after delivery, said Artal.

Some studies have also linked high birth weight to longer-term problems: Big babies may be at higher risk of obesity and diabetes later on, according to Smith's team.

To Artal, the new findings underscore the importance of going into pregnancy at as healthy a weight as possible.

In a 2013 study, Artal said, his team found that when obese women lost a modest amount of weight after a first pregnancy, it cut their risk of having an abnormally large baby the next time around.

"The best time to lose weight is before or between pregnancies," he suggested.

But a healthy diet and lifestyle during pregnancy are also vital, according to Artal, who was the main author of guidelines on exercise during pregnancy from ACOG.

Those guidelines encourage women to be active for at least 30 minutes a day, on most days of the week -- in part, because it may help prevent or treat pregnancy-related diabetes.

The latest findings are based on over 4,000 first-time mothers who were followed through pregnancy. Just over 4 percent were diagnosed with pregnancy-related diabetes during or after the 28th week of pregnancy, the findings showed.

Using ultrasound scans, Smith's team found early signs of rapid fetal growth in obese women. Their babies were 63 percent more likely to show abnormally large abdominal growth by the 20th week of pregnancy, versus babies born to thinner women.

When it came to women eventually diagnosed with diabetes, their babies were twice as likely to show excessive growth by the 28th week of pregnancy, versus women without diabetes.

Women who were both obese and diabetic had the fastest-growing babies: They were five times more likely to be excessively large by week 28, compared with babies born to moms who were neither obese nor diabetic, the investigators found.

According to Smith, it's not clear whether earlier diabetes screening should be more widely adopted. "One response to the current findings might be to screen as close as possible to 24 weeks," he said.

But it's not known whether routinely testing even earlier in pregnancy would benefit women and their babies, Smith said.

For now, he advised women to pay attention to their eating habits throughout pregnancy -- especially if they are obese or have other risk factors for pregnancy-related diabetes, such as a history of the condition.

"This involves not eating excessive quantities of simple carbohydrates, controlling portion sizes, eating plentiful fresh fruit and vegetables, and remaining active during the pregnancy," Smith said.

Obese women should also limit their weight gain during pregnancy, Artal said. In the United States, guidelines from different groups recommend obese women gain 11 to 20 pounds during pregnancy -- less than the 25 to 35 pounds recommended for normal-weight women.

Artal said he believes the 11-to-20 guideline is actually too much: There is evidence that obese women can safely gain less than that during pregnancy.

The report was published in the April 7 issue of the journal Diabetes Care.

More information

The American Congress of Obstetricians and Gynecologists has more on gestational diabetes.

Copyright © 2016 HealthDay. All rights reserved.